Vancouver, BC / TheNewswire / August 15, 2018 / Global Energy Metals Corporation TSXV:GEMC | OTCQB:GBLEF | FSE:5GE1 ("Global Energy Metals", the "Company" and/or "GEMC") is pleased to announce that partner Marquee Resources has received assay results for the next five of eight holes drilled at the summer work program at the Werner Lake Cobalt project ("Werner Lake"), located in Ontario, Canada. The Werner Lake exploration program is part of a $2.5 million commitment to advance the project and is being sole funded by Marquee under the final terms of the agreement announced February 28, 2018.
Highlights:
Confirms an extension of mineralisation at depth with further high-grade cobalt mineralisation intersected in the second batch of assays received from Phase 1 drilling at Werner Lake. Results included:

5.5 m @ 0.660% Co from 198.5 m in WL 18-07

Including 0.7m @ 3.15% Co

2.7 m @ 0.354% Co from 189.0 m in WL -18-06

Including 0.7m @ 0.67% Co

8 holes have now been completed for a total 1,588m at the Werner Lake Project as part of Marquee's Phase 1 drilling campaign. Results for hole WL 18-08 will be reported when available. With two further holes remaining in Phase 1.
Based on the successful drilling results during Phase 1, the Phase 2 drill program will commence immediately following the completion of holes WL 18-09 and WL 18-10, and will target further extensions to mineralisation at depth.
Marquee is confident the assays received from the Phase 1 drilling campaign will increase the existing NI 43-101 Resource of 79,400 Tonnes @ 0.43% Co.
Historical total mine production at the Werner Lake Project was reported at 143,386 lbs of cobalt grading approximately 2.2% cobalt and 0.75 % copper.
Marquee Managing Director, Charles Thomas commented:
"We are extremely encouraged to have intersected such high grade cobalt mineralisation in Phase 1 of Marquee's drilling program. WL 18-07 is one of the best holes that has ever been drilled at Werner Lake and indicates the potential for this deposit to grow in both size and grade at depth."
Paul Sarjeant, VP Projects and Director of GEMC said:
"Results from this drill program have further demonstrated the potential for mineralized zones. Marquee's technical team is incorporating the new drilling data into the geological model and is developing a follow up drilling program which will target mineralisation at depth having the potential to significantly increase the existing NI 43-101 Resource at Werner Lake."
Table 1. Significant Diamond Drill Results at Werner Lake Cobalt Project
DRILL HOLE

FROM

(m)

TO

(m)

INTERCEPT

(m)

COBALT

(%)

COPPER

(%)

WL 18-03
95.5
96.5
1.0
0.165
0.164
101.0
102.6
1.6
0.107
0.344
WL 18-04
118.1
119.2
1.1
0.043
0.146
WL 18-05
148.7
150.4
1.7
0.189
0.094
WL 18-06
189.0
191.7
2.7
0.354
0.313
Incl.
189.0
189.7
0.7
0.672
0.189
WL 18-07
198.5
204.0
5.5
0.66
0.124
Incl.
198.5
199.2
0.7
3.150
0.056
WL 18-03 (Figure 1) was designed to test down dip potential of the mineralised zone on Section 359,660 E from Canmine drill hole J-041 (4.76m @ 0.426% Co). The hole encountered zones of sulphide mineralisation where expected based on historical data (Figure 1) representing an approximately 40 m extension of mineralisation. WL 18-04 encountered weak sulphide mineralisation in drill core and elevated cobalt values were observed (Table 1) where expected, indicating the mineralised horizon continues further at depth (Figure 1).
Figure 1. Simplified Cross Section 359,660 E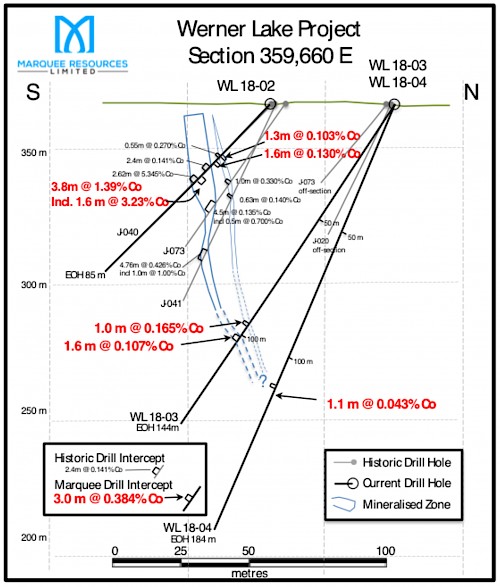 WL 18-05 and WL 18-06 (Figure 2) were designed to extend mineralisation to depth along Section 359,675 E. WL 18-05 (Table 1) returned 0.189% Co over 1.7 m (from 148.7 m) and was successful in extending mineralisation approximately 40 m beneath Canmine drill hole J-112. WL 18-06 (Figure 2) was drilled from the same collar as WL 18-05 to further extend mineralisation. The hole returned strong cobalt mineralisation of 0.345% Co over 2.70 m from 189.0 m, including a high grade zone of 0.672% over 0.70 m (from 189.0). This intercept represents the deepest mineralisation on this section and indicates strong cobalt mineralisation in an area that had poor results during the Puget Ventures 2010 drill campaign. Additional drilling wil be undertaken to assess the potential extension to mineralisation.
Figure 2. Simplified Cross Section 359,675 E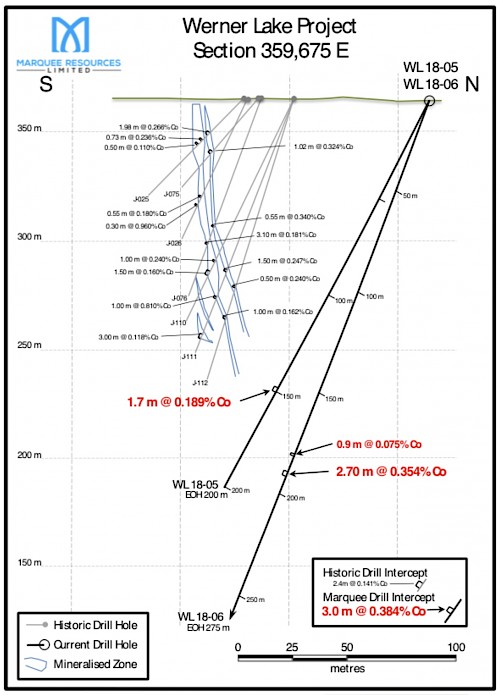 WL 18-07 tested the depth extension on mineralisation Section 359,700 E (Figure 3). Very strong cobalt mineralisation over a significant width was encountered; 0.660% Co over 5.5 m (from 198.5 m). Of particular significance was a 0.7 m section (from 198.5) of 3.150% Co, though two significant intervals below this interval ran over 0.3% Co, suggesting a strong zone of mineralisation was intersected. This represents an approximate 50m down dip extension of mineralisation.
Figure 3. Simplified Cross Section 359,700 E
The Company has now completed 8 holes for 1,588m at the Werner Lake Project as part of its phase one drilling campaign (Figure 4). Results for hole WL 18-08 are pending and will be reported when available.
The Company has been informed by the relevant authorities that the wildfire that was previously buring in the Werner Lake area is now sufficiently under control to allow the Company to recommence drilling activities at the Werner Lake Cobalt Project and the drilling team is expected to be remobilised over the coming 24 hours.
Figure 4. Werner Lake Drill Hole Location Map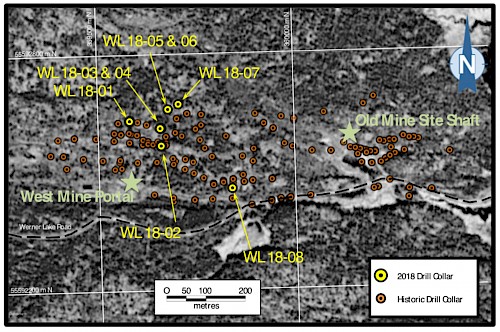 Qualified Person
Mr. Paul Sarjeant, P. Geo., the Company's VP Projects and Director, is the qualified person for this release as defined by National Instrument 43-101 - Standards of Disclosure for Mineral Projects and has reviewed and verified the technical information contained herein.
Global Energy Metals Corporation
(TSXV:GEMC | OTCQB:GBLEF | FSE:5GE1)
Global Energy Metals is focused on offering security of supply of cobalt, a critical material to the growing rechargeable battery market, by building a diversified global portfolio of cobalt assets including project stakes, projects and other supply sources. GEMC anticipates growing its business by acquiring project stakes in battery metals related projects with key strategic partners. Global Energy Metals currently owns and is advancing the Werner Lake Cobalt Mine in Ontario, Canada and has entered into an agreement to earn-in to the Millennium Cobalt Project in Mt. Isa, Australia.
For Further Information:
Global Energy Metals Corporation
#1501-128 West Pender Street
Vancouver, BC, V6B 1R8
Email: info@globalenergymetals.com
t. + 1 (604) 688-4219 extensions 236/237
Cautionary Statement on Forward-Looking Information:
Certain information in this release may constitute forward-looking statements under applicable securities laws and necessarily involve risks associated with regulatory approvals and timelines. Although Global Energy Metals believes the expectations expressed in such forward-looking statements are based on reasonable assumptions, such statements are not guarantees of future performance and actual results or developments may differ materially from those in the forward-looking statements. Except as required by law, the Company undertakes no obligation to update these forward-looking statements in the event that management's beliefs, estimates or opinions, or other factors, should change. For more information on Global Energy and the risks and challenges of their businesses, investors should review the filings that are available at www.sedar.com.
Neither TSX Venture Exchange nor its Regulation Services Provider (as that term is defined in the policies of the TSX Venture Exchange) accepts responsibility for the adequacy or accuracy of this release.
We seek safe harbour.