Vancouver, BC / TheNewswire / March 21, 2023 / Global Energy Metals Corporation TSXV:GEMC | OTCQB:GBLEF | FSE:5GE1 ("Global Energy Metals", the "Company" and/or "GEMC"), a company involved in the investment exposure to the battery metals supply chain, is pleased to provide a key update from its Millennium copper-cobalt-gold (Cu-Co-Au) project ("Millennium" and/or the "Project") located in Queensland, Australia. Global Energy Metals holds a 49% carried interest in the Project.
---
Highlights
Updated JORC 2012 Mineral Resource Estimate (MRE) of 8.4Mt @ 1.23% CuEq (0.09% Co, 0.29% Cu and 0.12g/t Au) including open cut (86%) and underground (14%) Resources
Represents 42% tonnage increase and 14% grade increase from 2016 MRE
Tonnage of mineralisation pre application of RPEEE1 has doubled with new significant Exploration Target
Bulk of the deposit is from surface, amenable to open cut mining and remains open at depth with high grade Co and Cu underground mining potential
Excellent metallurgy supports economic potential for future extraction
Next steps include additional metallurgical drilling and test work leading to scoping and subsequently pre-feasibility studies.
---

Table 1 – Millennium Co-Cu-Au Mineral Resource Estimate
---
Note: Open cut resources within RPEEE pit estimates reported above a cut-off grade of 0.4 CuEq%2, underground resources below pit shells within RPEEE estimates reported above a cut-off grade of 1.00 CuEq%.
Some numerical differences may occur due to rounding.
1Reasonable Prospects of Eventual Economic Extraction
2CuEq % = Cu % + (9.16 * Co %) + (0.678 * Au g/t)
Cu price (US$/lb) = $3.50; Co price (US$/lb) = $32.00; Au price (US$/oz) = $1,900; Cu recovery = 95.1%;
Co recovery = 95.3%; Au recovery = 81.4%; Cu payability = 80%; Co payability = 80%; Au payability = 80%
---
GEMC is pleased to announce that strategic partner, Metal Bank Ltd. ("MBK"), has released a JORC 2012 Mineral Resource Estimate ("MRE") update for the Millennium Co-Cu-Au deposit located approximately 35km WNW of Cloncurry in North Queensland of 8.4Mt @ 0.09% Co, 0.29% Cu and 0.12g/t Au for a 1.23% CuEq.
The Millennium deposit represents a near-term critical minerals development opportunity, at surface on granted mining leases and proximal to existing mining infrastructure in a renowned exploration and mining region.
---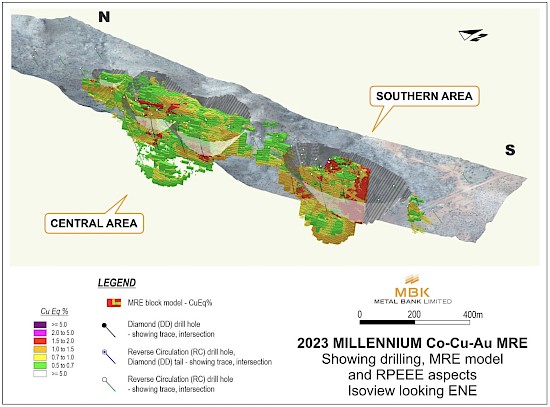 Figure 1 – Millennium Co-Cu-Au Project isoview showing 2023 MRE, resource drilling and optimised pit shell
---
Mitchell Smith, GEMC's President & CEO, Director commented:
"We are thrilled with the outcome of this resource update for the Millennium Cobalt-Copper-Gold project in Queensland, Australia. Metal Banks' work to further the understanding of the geological setting and mineralisation types not only improves the resource confidence but also continues to de-risk the Project towards future development. With the success had to date via the drill bit we expect it will only be a matter of time before we unlock the critical mineral potential at Millennium."
---
Commenting on the updated Resource, Metal Bank's Chair, Inés Scotland said:
"The growth of the Millennium Resource into our 2021 Exploration Target range was delivered at low cost and improved grade, demonstrating our approach of adding value through exploration success. The deposit sits at surface on granted mining leases and close to nearby processing infrastructure, providing near term delivery potential for Australia's growing requirement for critical minerals. MBK is now well positioned to deliver on our goals for Millennium with a focus on scoping and feasibility study work, and testing the new increased Exploration Target of 12 - 14Mt @ 1.0 -1.3% CuEq."
---
Millennium 2023 MRE Update
In December 2021, MBK entered a joint venture agreement with battery mineral experts Global Energy Metals to earn-in up to 80% of the Millennium Co-Cu project. Over the following 12 months MBK conducted exploration, drilling, sampling, geophysics and other work programs to advance Millennium, grow the resource and test additional targets, including 33 drill holes for 3,873.1m.
MBK earned a 51% interest in the project on 5 December 2022 and has now completed formal resource work to provide the first MRE update since 2016 for 8.4Mt @ 0.09% Co, 0.29% Cu and 0.12g/t Au for a 1.23% CuEq (previous resource of 5.9Mt @ 0.11% Co, 0.32% Cu and 0.11g/t Au for 1.08% CuEq, 0.7% CuEq% cut-off, no RPEEE applied).
Initial 2023 MRE scoping work was undertaken by Haren Consulting, with a formal JORC 2012 MRE review and Reasonable Prospects for Eventual Economic Extraction (RPEEE) assessment by Cube Consulting.
The 2023 MRE update utilises 67 drill holes for 9,400.1m completed from 2013 to 2022 (2016 Resource 40 holes for 6,240m) plus integration of RPEEE aspects (Figure 2). The additional drill holes include 10 diamond (DD), one large diameter water-bore hole and Reverse Circulation (RC) holes by Hammer Metals/GEMC in 2018, and 10 RC and 5 DD holes by MBK in 2021 and 2022.
Drilling has added extensions to the previous model out to ~1500m along strike and up to ~240m depth (remaining open), provided significant confidence to drill spacing and continuity along strike and depth, and retained close structural and wireframe interpretation to the 2016 MRE.
Metallurgical samples were also obtained for preliminary testwork in 2018, with subsequent high grade composite results demonstrating high recoveries (>95%) into Cu-Au and Co concentrates.
The 2023 MRE update integrates the above with an approximate 50m x 50-100m drill spacing using RPEEE factors in a dominantly open-cut mining scenario using 0.4% CuEq cut-off and underground resources using a 1.00% CuEq cutoff.. Long term consensus metal price forecasts of Cu: US$3.50/lb ($7,716/t); Co: US$32.00/lb ($70,547.84/t); Au: US$1,900/oz were used with a corresponding CuEq% formula of:
CuEq = Cu% +(Co% x 9.16) + (Au g/t x 0.678)
Importantly, the 2023 MRE update with RPEEE consideration compares favourably with the unconstrained 2016 MRE, with a 42% tonnage increase and 14% grade increase despite mining and economic constraints.
---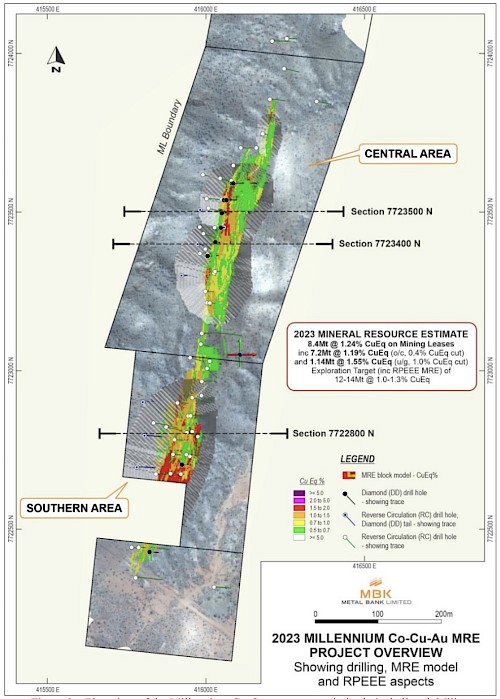 ---
Figure 2 – Plan view of the Millennium Co-Cu resource, optimised pit shell and drilling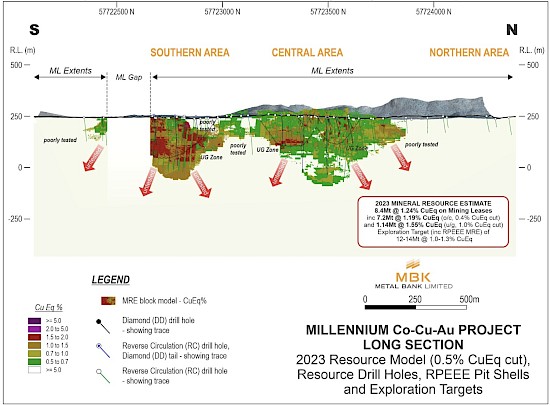 Figure 3: N-S long section view of the Millennium Co-Cu resource, optimised pit shell and resource drilling
---
Exploration Target
In conjunction with this 2023 MRE Update, MBK has revised the overall project Exploration Target for Millennium to 12-14Mt @ 1.0-1.3% CuEq (inclusive of current MRE), supported by its updated mineralisation model, high grade Co-Cu intersections at depth which remain open, a number of infill and extensional gaps in the existing MRE, and additional scope for improving geology, metallurgy, geotechnical and economic parameters including for the updated MRE.
The potential quantity and grade of the Exploration Targets is conceptual in nature. There has been insufficient exploration to estimate an additional Mineral Resource and it is uncertain if further exploration will result in the estimation of a Mineral Resource. The Exploration Targets take no account of geological complexity that may be encountered, possible mining method or metallurgical recovery factors. It is acknowledged that the currently available data is insufficient spatially in terms of the density of drill holes, and in quality, in terms of MBK's final audit procedures for down hole data, data acquisition and processing, for the results of this analysis to be classified as Mineral Resources in accordance with the JORC Code.
Refer to Figures 1-7 for further details on the Millennium Co-Cu Mineral Resource.
---
Forward Plan
The Millennium Project represents a key asset for MBK with forward work program for the next 12-24 months including:
Scoping and pre-feasibility studies to assess development potential and ESG;
Further metallurgical drilling to obtain sufficient bulk samples for advanced metallurgical work and flowsheet in conjunction with geotechnical studies, geometallurgical domaining and infill to increase confidence in the Mineral Resource;
Infill and extension drilling to test the Exploration Target with scope to incorporate into the Global Resource; and
Collaboration with other critical minerals projects and research in the region to optimise project value.
---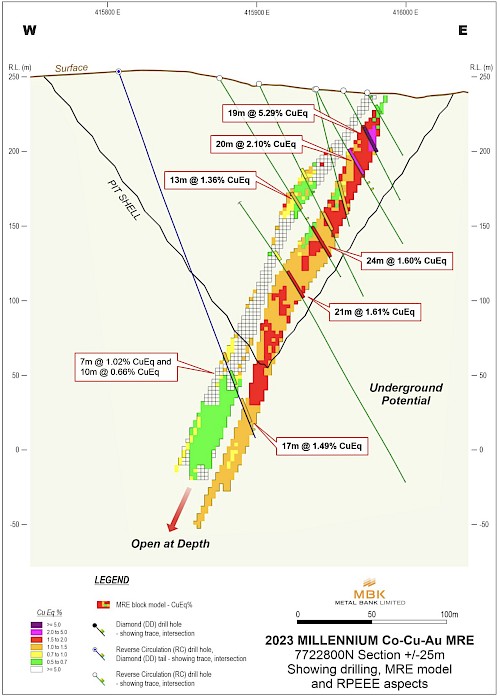 Figure 4 – 7722800N E-W section of the Millennium Co-Cu resource, optimised pit shell and resource drilling (+/-25m)
---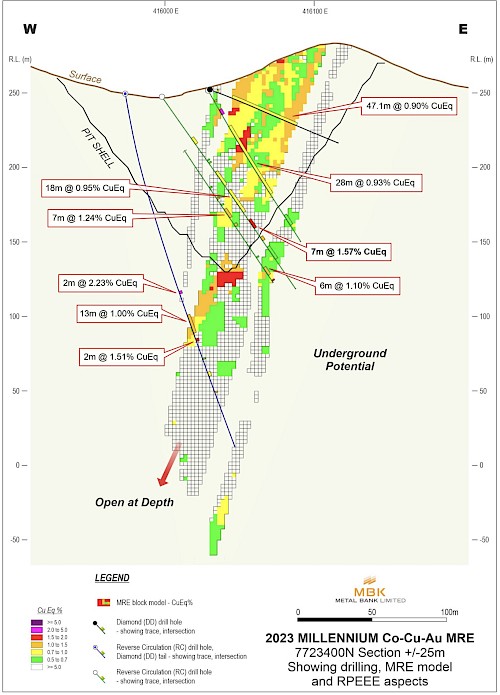 Figure 5 – 7723400N E-W section of the Millennium Co-Cu resource, optimised pit shell and resource drilling (+/-25m)
---
Geology
The Millennium Project geology comprises a variably metamorphosed volcanosedimentary sequence of tremolitic marble and calcsilicate rocks, mica schist, graphitic schist, quartzite, porphyritic mafic to intermediate lavas and volcaniclastics to meta-rhyolite and felsic volcaniclastics of the Palaeoproterozoic Milo Beds. The Milo Beds form part of the Corella Formation within the Quamby-Malbon sub-province of the Eastern Succession of the Mt Isa Inlier.
The NNE-trending Quamby-Fountain Range Fault system separates the Milo Beds in the east from a fault-bound block of younger Quamby Conglomerate to the west. The Quamby Conglomerate forms a topographic high on the western side of the leases which has shed conglomeratic colluvium widely across the project area, covering large portions of the underlying geology.
---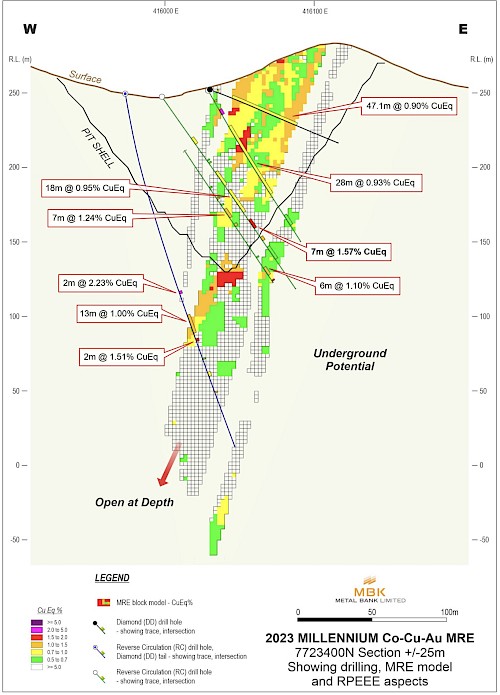 Figure 6 – 7723500N E-W section of the Millennium Co-Cu resource, optimised pit shell and resource drilling (+/-25m)
---
There are two major lithologies hosting Co-Cu-Au mineralisation: graphitic schist and ferruginous quartzite and metasediments. Both lithologies are micro-fractured, altered and quartz-carbonate-sulphide veined.
The graphitic schist is a fine-grained feldspathic, quartz, tourmaline, graphite rich metapelite/metasiltstone containing abundant rutile, and sandy quartzitic to metasediment horizons often contain domains of albite, siderite and chlorite alteration.
Conglomerate has been mapped in eastern parts of ML7507 adjacent the main body of quartzite and in narrower zones of intercalated fine-grained metasediments and calc-silicate horizons however marker beds are limited.
An anastomosing network of veins, microveins, breccias and fractures containing sulphides are often best developed in brittle fractured quartzite intervals however mineralisation is developed in both lithologies. Mineralisation is noted to extend into the conglomerate in the footwall of the quartzite.
---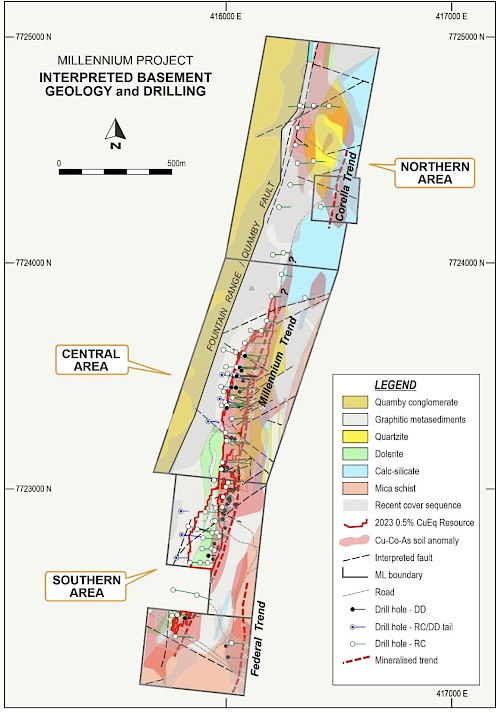 Figure 7: Simplified geology of the Millennium Co-Cu Project showing 2023 MRE and resource drill holes
---
Mineralisation is largely linear to anastomosing within a number of sub-parallel shears and veins dipping steeply WNW and largely coincident with regional foliation trending NNE following the regional Quamby-Fountain Range Fault system trend.
A number of small NW and NE-trending steep cross-faults and veinlets are noted which cause minor offsets to mineralisation and possible pre-existing lithological control. Mineralisation is noted in all lithologies including into the footwall conglomerates and best developed to date in zones adjacent and within contrasting units, particularly high competency quartzite and margins.
Mineralisation varies from replacement/disseminated, fracture, vein, network, shear/fault to zones of open space breccia fill style. Primary sulphide minerals hosting Co-Cu-Au-Ag mineralisation include cobaltite, chalcopyrite, bornite, chalcocite and cattierite.
Oxidation is fairly limited, with minor upper chalcocite, malachite, trace chrysocolla and limited erythrite development restricted to shallow near surface levels with minor deeper zones of partial oxidation down dip of main shear structures.
A number of down dip extensions remain open and untested representing additional targets, and intersections outside preliminary pit shell modelling may add resources in future work. There is also considerable scope to increase near surface tonnes via infill drilling along strike however access due to topography precludes drilling at this stage.
---
About Metal Bank
Metal Bank Limited is an ASX-listed minerals exploration company (ASX: MBK) holding a significant portfolio of advanced gold and copper exploration projects with substantial growth upside, including:
the right to earn up to 80% of the Millennium Copper & Cobalt project which holds an inferred 2023 JORC resource of 8.4Mt @ 1.23% CuEq, across 5 granted Mining Leases with significant potential for expansion;
a 75% interest in the advanced Livingstone Gold Project in WA which holds a JORC 2004 Inferred Resource of 49,900oz Au at the Homestead prospect, a JORC 2012 Inferred Resource of 30,500oz Au at Kingsley, and an Exploration Target of 290 – 400Kt at 1.8 – 2.0 g/t Au for 16,800 – 25,700oz Au at Kingsley; and
the 8 Mile, Wild Irishman and Eidsvold Gold projects in South East Queensland where considerable work by MBK to date has drill-proven both high grade vein-style and bulk tonnage intrusion-related Au mineralisation.
Metal Bank is also committed to a strategy of diversification and growth through identification of new exploration opportunities which complement its existing portfolio and pursuit of other opportunities to diversify the Company's assets through acquisition of advanced projects or cash- flow generating assets to assist with funding of the exploration portfolio.
---
Qualified Person
Mr. Paul Sarjeant, P. Geo., a Director and shareholder of the Company, is the qualified person for this release as defined by National Instrument 43-101 - Standards of Disclosure for Mineral Projects.
---
Global Energy Metals Corporation
(TSXV:GEMC | OTCQB:GBLEF | FSE:5GE1)
Global Energy Metals Corp. offers investment exposure to the growing rechargeable battery and electric vehicle market by building a diversified global portfolio of exploration and growth-stage battery mineral assets.
Global Energy Metals recognizes that the proliferation and growth of the electrified economy in the coming decades is underpinned by the availability of battery metals, including cobalt, nickel, copper, lithium and other raw materials. To be part of the solution and respond to this electrification movement, Global Energy Metals has taken a 'consolidate, partner and invest' approach and in doing so have assembled and are advancing a portfolio of strategically significant investments in battery metal resources.
As demonstrated with the Company's current copper, nickel and cobalt projects in Canada, Australia, Norway and the United States, GEMC is investing-in, exploring and developing prospective, scaleable assets in established mining and processing jurisdictions in close proximity to end-use markets. Global Energy Metals is targeting projects with low logistics and processing risks, so that they can be fast tracked to enter the supply chain in this cycle. The Company is also collaborating with industry peers to strengthen its exposure to these critical commodities and the associated technologies required for a cleaner future.
Securing exposure to these critical minerals powering the eMobility revolution is a generational investment opportunity. Global Energy Metals believes Now is the Time to be part of this electrification movement.
---
For Further Information:
Global Energy Metals Corporation
#1501-128 West Pender Street
Vancouver, BC, V6B 1R8
Email: info@globalenergymetals.com
t. + 1 (604) 688-4219
Twitter: @EnergyMetals | @USBatteryMetals | @ElementMinerals
---
Cautionary Statement on Forward-Looking Information:
Certain information in this release may constitute forward-looking statements under applicable securities laws and necessarily involve risks associated with regulatory approvals and timelines. Although Global Energy Metals believes the expectations expressed in such forward-looking statements are based on reasonable assumptions, such statements are not guarantees of future performance and actual results or developments may differ materially from those in the forward-looking statements. Except as required by law, the Company undertakes no obligation to update these forward-looking statements in the event that management's beliefs, estimates or opinions, or other factors, should change.
GEMC's operations could be significantly adversely affected by the effects of a widespread global outbreak of a contagious disease, including the recent outbreak of illness caused by COVID-19. It is not possible to accurately predict the impact COVID-19 will have on operations and the ability of others to meet their obligations, including uncertainties relating to the ultimate geographic spread of the virus, the severity of the disease, the duration of the outbreak, and the length of travel and quarantine restrictions imposed by governments of affected countries. In addition, a significant outbreak of contagious diseases in the human population could result in a widespread health crisis that could adversely affect the economies and financial markets of many countries, resulting in an economic downturn that could further affect operations and the ability to finance its operations.
For more information on Global Energy and the risks and challenges of their businesses, investors should review the filings that are available at www.sedar.com.
Neither TSX Venture Exchange nor its Regulation Services Provider (as that term is defined in the policies of the TSX Venture Exchange) accepts responsibility for the adequacy or accuracy of this release.
We seek safe harbour.