Vancouver, BC / TheNewswire / November 6, 2018 / Global Energy Metals Corporation TSXV:GEMC | OTCQB:GBLEF | FSE:5GE1 ("Global Energy Metals", the "Company" and/or "GEMC") is pleased to report exceptionally positive results from the initial metallurgical program conducted over the northern quartzite zone of the Millennium Cobalt Project ("Millennium") in Mt. Isa, Queensland Australia.
Mitchell Smith, President & CEO commented:
"Having achieved these excellent metallurgical results is remarkable at this growth stage of project development. The 2018 drilling program at Millennium confirmed previous exploration work further demonstrating that this deposit has exceptional cobalt mineralisation continuity over a significant area and is open along strike and at depth, increasing the potential for resource expansion. Following our highly anticipated outright acquisition of the project we look forward to rapidly advancing the Millennium Cobalt project on all fronts including further drilling and additional metallurgical studies planned for 2019."
Two composite samples were sourced from diamond drill core (MIDD001-MIDD010) from a program conducted at Millennium during the first phase exploration program which continued for several months over the first half of 2018. The drilling tested the northern quartzite domain that contains the majority of the known resource at Millennium.
Highlights of the metallurgical test work include:
Production of separate cobalt (Co) and copper (Cu) rougher concentrate streams is possible.
High-grade composite peak rougher floatation test:

Combined Cu recovery of 95.1%
Combined Co recovery of 95.4%
Au total recovery of 81.4% reporting dominantly to the Cu concentrate

Low-grade composite peak rougher floatation test:

Combined Cu recovery of 91.3%
Combined Co recovery of 91.7%
Au total recovery of 77.9% reporting dominantly to the Cu concentrate

It is expected that the concentrate grades may increase on re-grind and final cleaner floatation. This test-work will be conducted in 2019.
The results are considered very encouraging. Looking ahead, further drilling is planned on both the northern and southern portion of the Millennium deposit to expand and upgrade the current resource. This will be accompanied by ongoing metallurgical characterization.
GEMC has entered into a binding agreement (the "Agreement") with joint venture partner Hammer Metals ("Hammer") to acquire the balance of the interest in the Millennium Cobalt Project as well as the Mt. Dorothy Cobalt Project and the Cobalt Ridge Project (collectively the "Mt. Isa Projects"), such that it will hold 100% of both Millennium and the Mt. Isa Projects. This accelerated acquisition of cobalt rich assets positions GEMC as the region's leading cobalt explorer/developer building a district-scale cobalt opportunity in Queensland Australia's Mt. Isa prolific mining jurisdiction.
First Stage Metallurgical Program:
Two composites were sourced from diamond drill core from a program conducted during the first quarter of 2018 (refer to ASX releases January 17th, June 5th and July 19th.) The drilling was testing what is termed the northern quartzite domain at Millennium. This domain hosts the majority of the Millennium Co-Cu-Au resource.
The test-work was done by ALS Metallurgy ("ALS") in Adelaide. The aims of the test-work were:
determine Cu, Co and Au recoveries via rougher floatation;
determine preliminary comminution parameters; and
determine the main cobalt and copper minerals in concentrates.
Table 1 – Composite head grade assays (HG – high grade and LG – low grade)

Twelve rougher float tests were undertaken on the high-grade and low-grade composites. Each test was conducted using different grind and reagent settings. The optimum settings were obtained in tests HG-7 and LG-5 and the results of these tests are summarised below.
Quartzite is the main host lithology for this domain at Millennium and, as expected, the comminution test work reported results are indicative of a silica rich gangue material. The SMC test classified the composites as "very hard", abrasion tests as "slightly abrasive" and the Ball Mill index test as "hard".
Optical mineralogy and XRD analysis indicated that copper was exclusively present as chalcopyrite (CuFeS2) and cobalt was identified in both cobaltite (CoAsS) and catterite (CoS2).
Table 2 – Rougher float test results for high-grade and low-grade composites

Table 3 – Rougher float test parameters

Figure 1. Oblique view of the Millennium deposit. The quartzite domain is largely present at Millennium North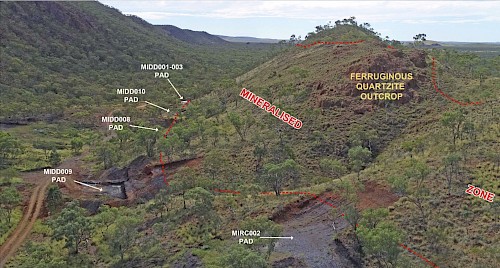 Figure 2. Northern Zone at Millennium showing the mineralised Quartzite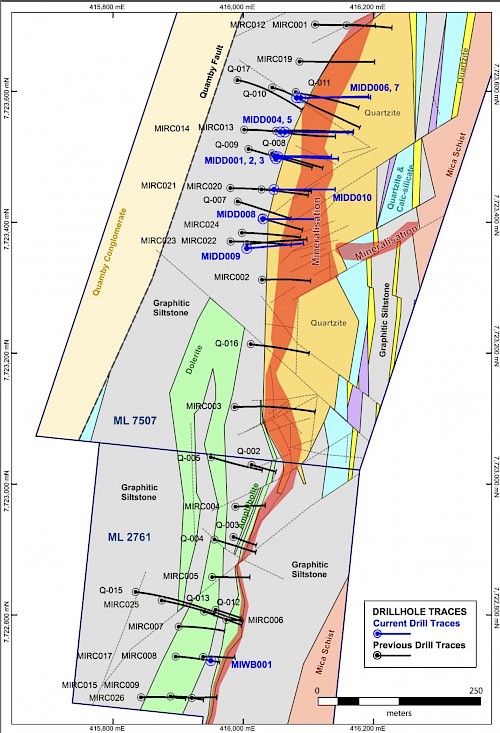 Note: The location of the northern quartzite domain (shaded in orange). The mineralised portion of the domain is shaded in red.
About ALS Metallurgy
ALS Metallurgy is the global leader in metallurgical testing and consulting services for mineral process flowsheet development and optimisation. Extensive bench scale laboratory, large scale pilot plant facilities and expert metallurgists, provide mineral processing, hydrometallurgical, mineralogical and in-plant services to the global resources community. Our metallurgical solutions are internationally recognised by the mining, engineering and financial sectors for all major commodities.
Qualified Person
Mr. Paul Sarjeant, P. Geo., the Company's VP Projects and Director, is the qualified person for this release as defined by National Instrument 43-101 - Standards of Disclosure for Mineral Projects and has reviewed and verified the technical information contained herein.
Global Energy Metals Corporation
(TSXV:GEMC | OTCQB:GBLEF | FSE:5GE1)
Global Energy Metals is focused on offering security of supply of cobalt, a critical material to the growing rechargeable battery market, by building a diversified global portfolio of cobalt assets including project stakes, projects and other supply sources. GEMC anticipates growing its business by acquiring project stakes in battery metals related projects with key strategic partners. Global Energy Metals currently owns and is advancing the Werner Lake Cobalt Mine in Ontario, Canada and has entered into an agreement to earn-in to the Millennium Cobalt Project in Mt. Isa, Australia.
For Further Information:
Global Energy Metals Corporation
#1501-128 West Pender Street
Vancouver, BC, V6B 1R8
Email: info@globalenergymetals.com
t. + 1 (604) 688-4219 extensions 236/237
Cautionary Statement on Forward-Looking Information:
Certain information in this release may constitute forward-looking statements under applicable securities laws and necessarily involve risks associated with regulatory approvals and timelines. Although Global Energy Metals believes the expectations expressed in such forward-looking statements are based on reasonable assumptions, such statements are not guarantees of future performance and actual results or developments may differ materially from those in the forward-looking statements. Except as required by law, the Company undertakes no obligation to update these forward-looking statements in the event that management's beliefs, estimates or opinions, or other factors, should change. For more information on Global Energy and the risks and challenges of their businesses, investors should review the filings that are available at www.sedar.com.
Neither TSX Venture Exchange nor its Regulation Services Provider (as that term is defined in the policies of the TSX Venture Exchange) accepts responsibility for the adequacy or accuracy of this release.