Vancouver, BC / TheNewswire / September 25, 2017 / Global Energy Metals Corp. TSXV:GEMC | FSE:5GE1 ("Global Energy Metals", the "Company" and/or "GEMC") has acquired an option from Hammer Metals ("Hammer") for the Millennium Cobalt-Copper Project ("Millennium" and/or the "Project") located in the heart of Mt. Isa, Queensland Australia covering five separate mining leases with existing JORC (2012) compliant mineral resources defined by drilling from a 2016 drilling program.
Project Highlights:
The Project is located close to well established mining, transport and processing infrastructure along with a skilled workforce in the regional centres of Mount Isa and Cloncurry.
Preliminary hydrometallurgical studies have demonstrated the potential for the recovery of saleable cobalt and copper concentrates.
Historical estimate* – Hammer completed a JORC (2012) resource completed in 2016 on the property as disclosed in a press release dated December 6, 2016 comprised of an Inferred Resource of 3.1 million tonnes @ 0.14% Co, 0.34% Cu and 0.12g/t Au (using CuEq cutoff of 1.0%).
Hammer Metals, the project operator, was awarded 2015 ASX explorer of the year, and is the operating partner with both Newmont and Glenncore in Australia.
GEMC continues to execute its strategy of becoming a supplier of non-DRC cobalt material to downstream partners; Millennium is the first acquisition to complement its wholly owned Canadian primary cobalt project.
Please refer to GEMC's May 1, 2017 news release for additional details on the project.
Mitchell Smith, President & CEO commented:
"The option on the Millennium Cobalt project in Australia complements our existing cobalt footprint in Canada and represents a transformational growth opportunity for the company and its shareholders. We believe Millennium is an exceptional opportunity, with significant near-term upside potential in both project economics and expansion of the existing resources. Hammer is guided by an established and experienced technical team that has the proven ability to quickly advance this cobalt project."
"Hammer is very pleased to have GEMC as a strategic partner to develop Millennium," said Hammer's CEO, Alex Hewlett. "GEMC's cobalt sector knowledge and partnerships in Asian battery markets was key to our wanting to partner with them. This transaction provides our shareholders with immediate upside in partnering with a cobalt focused player while retaining exposure to longer term value creation that the Millennium Project will offer."
Millennium is an advanced cobalt project with a large defined area and remains open for significant expansion. Cobalt-copper mineralisation is associated with shear zones hosted within a sequence of volcanic and sedimentary units. The 2016 JORC resource estimate completed by Hammer outlined a mineralised zone over a strike length of approximately 1.5 km (Figure 1). Additional mapping, soil geochemistry and rock sampling has identified an additional 1.5 km of anomalous cobalt-copper mineralisation in geological analogues that occur along a potential strike extension in the northern half of the tenement package (Figure 2) that has not been tested with any drilling. This additional strike extent provides excellent opportunity to increase the overall resource potential of the Millennium project.
To date the project area has been tested by only 62 drill holes (percussion, RC and diamond) for a total of 7,891 metres. Most holes have been drilled within 200 metres of surface, with few holes reaching to depths greater than 250 metres below surface. At present mineralisation remains open at depth along the strike extent of the JORC resource area.
Figure 1: Target Zones and Resource area at Millennium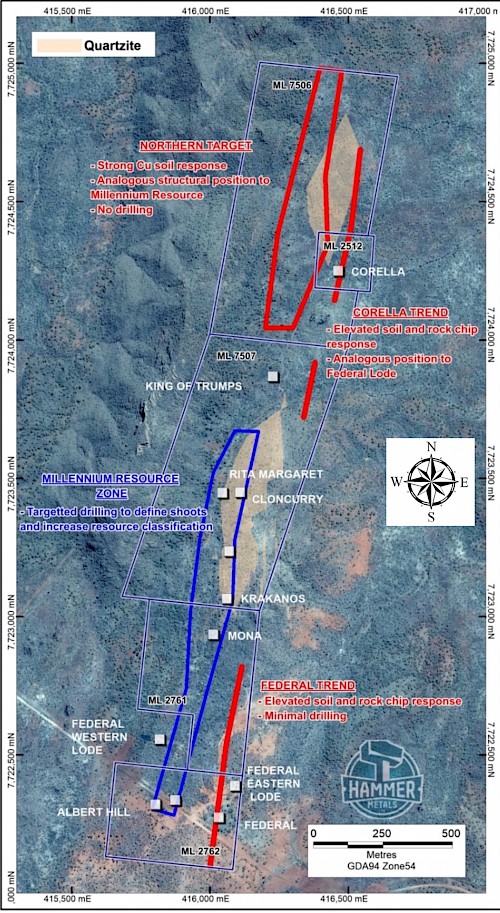 Figure 2: Rock Chip and Soil samples over Millennium Mining Leases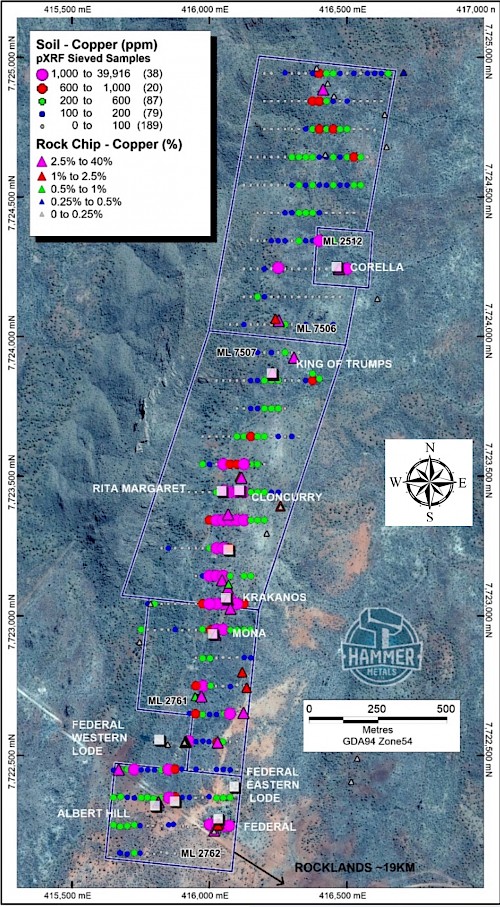 Proposed Work Program:
GEMC and Hammer are working together in finalizing plans to advance the Millennium Cobalt project. This initial work program includes:
Reverse circulation and diamond drilling to upgrade resource mineralisation and test depth extension,
Update the resource estimate to CIM standards for NI 43-101 reporting requirements,
Scoping metallurgical studies and pit optimisations, and Significant exploration upside has been identified including several priority drill ready targets prospective for the discovery of additional cobalt mineralization in the northern mining lease areas.
Key Commercial Terms of the Agreement:
Before the third year anniversary of signing a definitive option agreement, GEMC must expend a minimum of CAD $2,500,000 in project exploration and development work on Millennium as follows:
$500,000 within 6 months for 25% interest;
$1,000,000 within 18 months for 65% cumulative interest; and •
$1,000,000 within 36 months for cumulative 75% interest
GEMC will also pay to Hammer a total of CAD $200,000 in cash in two equal payments of $100,000, the first upon signing the definitive agreement and the second on the 6 month anniversary of the first payment.
Global Energy Metals may exercise its right to acquire additional in- terest in Millennium based on future terms agreed to by both parties at that time.
*This work was based on a technical report by Haren Consulting Pty Ltd., issued November 29, 2016 conforming to JORC (2012) reporting standards for resources estimates. As Hammer uses JORC categories, it should be not- ed that the confidence in the estimate of JORC inferred mineral resources is usually not sufficient to allow the results of the application of technical and economic parameters to be used for detailed planning. For this reason, there is no direct link from an inferred resource to inferred resource as de- fined under NI 43-101. However, the Company deems this resource still rel- evant because economic parameters have not changed significantly since publication date and the Company has confidence in the estimate based on review of technical data. A qualified person has not done sufficient work to classify the historical estimate as current mineral resources or mineral re- serves and the issuer is not treating the historical estimate as current min- eral resources or reserves. CuEq%= Cu% +(Co%*5.9) +(Au ppm*0.9) +(Ag ppm*0.01). Price assumptions utilised by Hammer for the JORC resource estimate and drill hole intercepts are (in USD); Au - $1,300/oz, Ag - $20/oz, Co - $27,000/t and Cu - $4,600/t.
Qualified Person
Mr. Paul Sarjeant, P. Geo., the Company's VP Projects and Director, is the qualified person for this release as defined by National Instrument 43-101 - Standards of Disclosure for Mineral Projects and has reviewed and verified the technical information contained herein.
Hammer Metals Limited (ASX:HMX)
Hammer Metals holds a strategic tenement position covering approximately 3,100km2 within the Mount Isa mining district, with 100% interests in the Kalman (Cu-Au-Mo-Re) deposit, the Overlander North and Overlander South (Cu-Co) deposits, the Millennium (Cu-Co- Au) deposit as well as the recently acquired Elaine-Dorothy (Cu-Au) deposit. Hammer is an active mineral explorer, focused on discovering large copper-gold deposits of the Ernest Henry style and has a range of prospective targets at various stages of testing.
Global Energy Metals Corporation (TSXV:GEMC | FSE:5GE1)
Global Energy Metals is focused on offering security of supply of cobalt, a critical material to the growing rechargeable battery market, by building a diversified global portfolio of cobalt assets including project stakes, projects and other supply sources. GEMC anticipates growing its business by acquiring project stakes in battery metals related projects with key strategic partners. Global Energy Metals currently owns and is advancing the Werner Lake Cobalt Mine in Ontario, Canada and has entered into an agreement to earn-in to the Millennium Cobalt Project in Mt. Isa, Australia.
For Further Information:
Global Energy Metals Corporation
#1501-128 West Pender Street Vancouver, BC, V6B 1R8
Email: info@globalenergymetals.com
t. + 1 (604) 688-4219 extensions 236/237
Cautionary Statement on Forward-Looking Information:
Certain information in this release may constitute forward-looking statements under applicable securities laws and necessarily involve risks associated with regulatory approvals and timelines. Although Global Energy Metals believes the expectations expressed in such forward-looking statements are based on reasonable assumptions, such statements are not guarantees of future performance and actual results or developments may differ materially from those in the forward-looking statements. Except as required by law, the Company undertakes no obligation to update these forward-looking statements in the event that management's beliefs, estimates or opinions, or other factors, should change. For more information on Global Energy and the risks and challenges of their businesses, investors should review the filings that are available at www.sedar.com.

Neither TSX Venture Exchange nor its Regulation Services Provider (as that term is defined in the policies of the TSX Venture Exchange) accepts responsibility for the adequacy or accuracy of this release.
We seek safe harbour.