VANCOUVER, BC / TNW-ACCESSWIRE / MAY 1, 2017 / GLOBAL ENERGY METALS CORP. TSXV:GEMC ( " Global Energy Metals ", the "Company" and/or "GEMC") has entered into a binding letter agreement with Hammer Metals Ltd.("Hammer") for the exclusive right to earn up to a 75% interest, in the Millennium Cobalt Project (the "Project" and/or "Millennium"), an advanced mineral exploration and development property located in the famed Mount Isa mining region of Australia. Additionally, GEMC holds a right of first refusal ("RoFR") to acquire any additional interest in the Project, which Hammer may wish to sell.
Global Energy Metals' acquisition of the Millennium Cobalt Project is the first of several expected acquisitions of robust cobalt projects with material that is of interest to the Company's battery and offtake partners in Asia, meeting GEMC's investment requirements of having an existing resource, metallurgical test work and being in a non-DRC jurisdiction.
The Millennium Project offers significant benefits for GEMC including:
The Millennium Project is a significant cobalt-copper deposit that remains open for expansion.
The Project is located close to well established mining, transport and processing infrastructure along with a skilled workforce in the regional centres of Mount Isa and Cloncurry.
Millennium shows potential for scale and excellent grade and will fit well into GEMC's portfolio of quality cobalt projects.
Preliminary hydrometallurgical studies have demonstrated the potential for the recovery of saleable cobalt and copper concentrates.
Historical estimate* – Hammer completed a JORC (2012) resource on the property as disclosed in a press release dated December 6, 2016 comprised of an Inferred resource of 3.1 million tonnes @ 0.14% Co, 0.34% Cu and 0.12g/t Au (using CuEq cutoff of 1.0%)
GEMC continues to execute its strategy of becoming a supplier of non-DRC cobalt material to downstream partners; Millennium is the first acquisition to complement its wholly owned Canadian primary cobalt project.
Recent drilling in 2016 from Hammer's 23 RC drill hole program (Hammer ASX releases, 13/09/2016 and 14/10/2016 ) included peak cobalt results with 8 metres at 0.35% Co in MIRC023 and 4 metres at 0.51% Co in MIRC013.
Other intercepts included:
19 m at 0.38% Co, 1.27% Cu, 0.70 g/t Au, (4.12% CuEq) in Q-012;
24 m at 0.15% Co, 0.23% Cu and 0.09 g/t Au (1.17% CuEq) in MIRC013;
including 4 m at 0.51% Co, 0.46% Cu and 0.16 g/t Au (3.64% CuEq),
12 m at 0.19% Co, 0.57% Cu and 0.19 g/t Au (1.85% CuEq) in MIRC014;
including 4 m at 0.30% Co, 0.44% Cu and 0.14 g/t Au (2.33% CuEq),
40 m at 0.07% Co, 0.32% Cu and 0.13 g/t Au (0.82% CuEq) in MIRC017;
including 5 m at 0.15% Co, 0.82% Cu and 0.21 g/t Au (1.90% CuEq); and
33 m at 0.16% Co, 0.66% Cu and 0.34 g/t Au (2.11% CuEq) in MIRC023; including 8 m at 0.35% Co, 0.08% Cu (2.19% CuEq).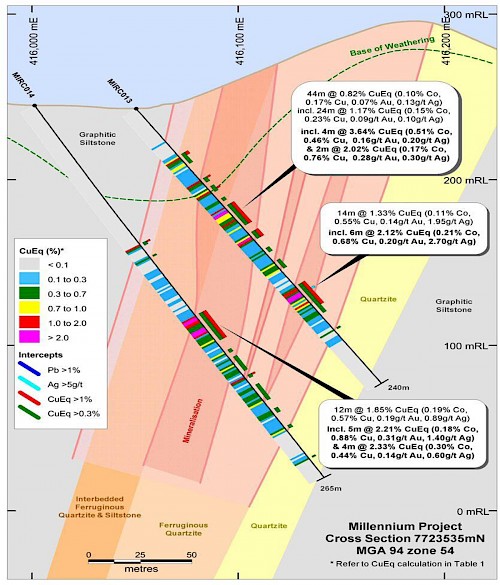 All intercepts reported represent core lengths; true width will vary depending on the intersection angle with the targeted zone. Holes are generally planned to intersect mineralised zones as close to perpendicular as possible. Copper equivalent (CuEq) calculation is as follows: CuEq% = Cu% +(Co%*5.9) +(Au ppm*0.9) +(Ag ppm*0.01). Price assumptions utilised by Hammer for the JORC resource estimate and drill hole intercepts are (all $US); Au - $1,300/oz, Ag - $20/oz, Co - $27,000/t and Cu - $4,600/t.
* This work was based on a technical report by Haran Consulting Pty Ltd, issued November 29, 2016 conforming to JORC (2012) reporting standards for resources estimates. As Hammer uses JORC categories, it should be noted that the confidence in the estimate of JORC inferred mineral resources is usually not sufficient to allow the results of the application of technical and economic parameters to be used for detailed planning. However, the Company deems this resource still relevant because economic parameters have not negatively change significantly since publication date and the Company has confidence in the estimate based on review of technical data.
There are no more recent estimates or data available. To upgrade this work from an historical estimate to a current mineral resource, the Company will review the data set and complete additional drilling and modeling work to verify the historic estimate as a current mineral resource or mineral reserve.
A qualified person has not done sufficient work to classify the historical estimate as current mineral resources or reserves, and the issuer is not treating the historical estimate has current mineral resources or reserves.
Mitchell Smith, President & CEO of Global Energy Metals commented:
" We are very pleased to announce this transaction to our shareholders. We have a highly experienced cobalt focused management team that has identified an exceptional opportunity to acquire a quality asset with near term and future upside potential. Mount Isa is in one of the world's foremost base metal mining districts having a rich and well-established mining history. We believe that Millennium represents one of the best cobalt opportunities currently available not only in that region but also globally. Millennium is an ideal first acquisition that fits into our objective that includes the acquisition of additional high quality mining assets and providing cobalt supply to our end user partners."
Alex Hewlett, Hammer's CEO and Director of Hammer stated:
"We are thrilled to have GEMC as a strategic partner and combine efforts to develop Millennium. GEMC's strong track record, deep cobalt sector knowledge and key partnerships in Asian battery markets were key to our wanting to partner with them. This transaction provides our shareholders with immediate upside in partnering with a cobalt focused leader in the industry while retaining exposure to longer term value creation that the Millennium Project will offer."
Transaction Summary
The letter agreement outlines the principal terms and conditions to enter into a three-year option to purchase a staged interest of up to 75% interest upon making project related expenditures to further advance the property. Total consideration for the option is CAD $2,700,000.
The Company plans to be on site in Australia to conduct a technical site visit in mid-May 2017 and will conduct further due diligence to follow. Evaluation of additional projects from an earlier trip to Australia will continue in parallel.
Completion of the agreement is expected within the next 90 days. Upon successful conclusion of due diligence, and at the direction of GEMC, the parties will enter into a definitive agreement, subject to standard conditions and any regulatory approvals that may be required.
Before the third year anniversary of signing a definitive option agreement, GEMC must expend a minimum of CAD $2,500,000 in project exploration and development work on Millennium as follows:
$500,000 within 6 months for 25% interest;
$1,000,000 within 18 months for 65% cumulative interest; and
$1,000,000 within 36 months for cumulative 75% interest
GEMC will also pay to Hammer a total of CAD $200,000 in cash in two equal payments of $100,000, the first upon signing the definitive agreement and the second on the 6 month anniversary of the first payment.
Global Energy Metals may exercise its right to acquire additional interest in Millennium based on future terms agreed to by both parties at that time.
The Millennium Cobalt Project, Mount Isa, Australia:
The following property description and technical information in this news release is historical in nature and is based on data and reports provided to the Company by Hammer.
The Mount Isa Inlier is a highly mineralised, established mining jurisdiction with significant regional infrastructure and several world-class copper-gold-cobalt and lead-zinc-silver mines and deposits, including CuDeco Limited's operating Rocklands copper-gold-cobalt project located 19 kilometres to the northwest.
The Project comprises five Mining Leases; ML's 2512, 2761, 2762, 7506 and 7507. Hammer currently has a 100% interest in all five Mining Leases. The tenements are in good standing with no known impediments.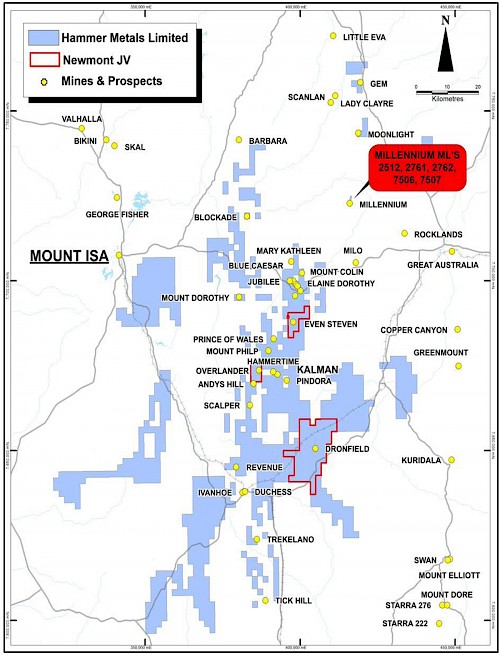 Most importantly, recent drilling and exploration to date has returned outstanding, high-grade intercepts and there is excellent potential to build upon the historic estimate as developed by Hammer. Based on previous work by Hammer and others, mineralisation is interpreted to extend over a strike length of 1,600 metres and extends to approximately 280 metres below surface. Multiple high-grade targets are awaiting further exploration and the mineralised zone remains open at depth and to the north along strike.
Hammer drilled a total of 23 RC holes and extended two previous holes at Millennium in a late 2016 work program. The results build on previous drilling conducted in the area and 40 drill holes were used in the first JORC (2012) mineral resource estimate for the project.
Future Progress
The Project presents as an excellent opportunity to acquire a cobalt asset of significant size with potential to expand mineralisation in close proximity to a processing solution and excellent infrastructure within the Mount Isa region of Queensland, Australia. It is anticipated that GEMC will conduct further infill drilling to tighten drill spacing and test for potential extensions at depth and along strike, which the Company believes, could result in a material increase in the size of the current JORC resource. This drilling should also enable continuity modeling quality to be increased for each variable allowing for a higher classification of Indicated or Measured under resource reporting standards for resource estimates.
As the current resource model has been expressed on a CuEq basis and given the current strength of the cobalt price and long-term positive fundamentals and outlook for the cobalt market, GEMC will look to evaluate the deposit moving forward with a more cobalt centric position.
Qualified Person
Mr. Paul Sarjeant, P. Geo., the Company's VP Projects and Director, is the qualified person for this release as defined by National Instrument 43-101 - Standards of Disclosure for Mineral Projects and has reviewed and verified the technical information contained herein.
Hammer Metals Ltd.
Hammer is listed on the Australian Stock Exchange (ASX code HMX) and is a mineral exploration and development company focused on the exploration and development of base and precious metal deposits in Australia.
Global Energy Metals Corporation (TSXV:GEMC)
Global Energy Metals is focused on offering security of supply of cobalt, a critical material to the growing rechargeable battery market, by building a diversified global portfolio of cobalt assets. GEMC anticipates growing its business by acquiring project stakes in battery metals related projects with key strategic partners. Global Energy Metals currently owns and is advancing the Werner Lake Cobalt Mine in Ontario, Canada.
For Further Information:
Global Energy Metals Corporation
#1501-128 West Pender Street
Vancouver, BC, V6B 1R8
Email: info@globalenergymetals.com
t. + 1 (604) 688-4219 extensions 236/237
Cautionary Statement on Forward-Looking Information:
Certain information in this release may constitute forward-looking statements under applicable securities laws and necessarily involve risks associated with regulatory approvals and timelines. Although Global Energy Metals believes the expectations expressed in such forward-looking statements are based on reasonable assumptions, such statements are not guarantees of future performance and actual results or developments may differ materially from those in the forward-looking statements. Except as required by law, the Company undertakes no obligation to update these forward-looking statements in the event that management's beliefs, estimates or opinions, or other factors, should change. For more information on Global Energy and the risks and challenges of their businesses, investors should review the filings that are available at www.sedar.com.
Neither TSX Venture Exchange nor its Regulation Services Provider (as that term is defined in the policies of the TSX Venture Exchange) accepts responsibility for the adequacy or accuracy of this release.
We seek safe harbour.