Vancouver, BC / TheNewswire / September 26, 2017 / Global Energy Metals Corp. TSXV:GEMC | FSE:5GE1 ("Global Energy Metals", the "Company" and/or "GEMC") is pleased to announce that the Company was recognized by Stockhouse as Best in Show Honourable Mention at the inaugural Extraordinary Future event that took place on September 20 at the Vancouver Convention Centre, hosted by Cambridge House International.
The event was a great success, with 1000+ attendees, 30+ groundbreaking speakers, and buzzing marketplace giving attendees exclusive access to early stage products and services, many, yet to hit the market.
With so many amazing tech companies and one technology focused resource company, GEMC, onsite, Stockhouse admitted that it was a very difficult choice to narrow down "Best in Show".
Showcasing a Tesla Motors Model X and having been featured in two speaking positions at the conference, GEMC was "very effective in demonstrating the power and importance of cobalt in the tech sector" according to Stockhouse. Given the Company's efforts at bridging the gap between battery metals, cobalt specifically, and the critical role they play in current and future technology, GEMC was included in highest Honourable Mention.
Click on the following link to watch a short video clip with President and CEO, Mitchell Smith - From the Floor of Extraordinary Futures Conference Vancouver 2017.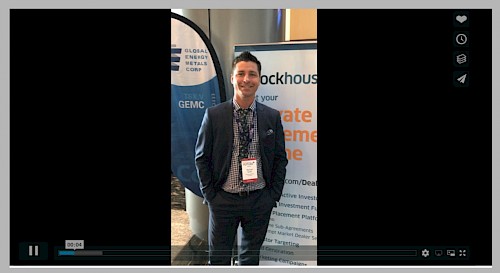 GEMC was also featured in a video interview with Proactive Investors' Andrew Scott, highlighting the Company's "transformational" acquisition of an option from Hammer Metals for the Millennium cobalt-copper project in Queensland, Australia.
Click on the following link to watch the Proactive video Global Energy Metals ahead of the Cobalt Curve.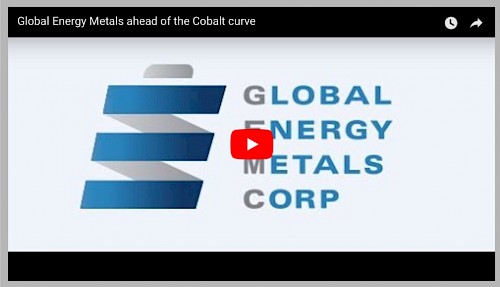 Millennium is the firm's first acquisition to complement its wholly-owned Canadian primary cobalt project, offering significant near-term upside potential in both project economics and expansion of the existing resources. GEMC and Hammer, guided by an established and experienced technical team that has the proven ability to quickly advance this cobalt project, are working together in finalizing plans for the Phase 1 work program and budget.
Global Energy Metals Corporation (TSXV:GEMC | FSE:5GE1)
Global Energy Metals is focused on offering security of supply of cobalt, a critical material to the growing rechargeable battery market, by building a diversified global portfolio of cobalt assets including project stakes, projects and other supply sources. GEMC anticipates growing its business by acquiring project stakes in battery metals related projects with key strategic partners. Global Energy Metals currently owns and is advancing the Werner Lake Cobalt Mine in Ontario, Canada and has entered into an agreement to earn-in to the Millennium Cobalt Project in Mt. Isa, Australia.
For Further Information:
Global Energy Metals Corporation
#1501-128 West Pender Street Vancouver, BC, V6B 1R8
Email: info@globalenergymetals.com
t. + 1 (604) 688-4219 extensions 236/237
Cautionary Statement on Forward-Looking Information:
Certain information in this release may constitute forward-looking statements under applicable securities laws and necessarily involve risks associated with regulatory approvals and timelines. Although Global Energy Metals believes the expectations expressed in such forward-looking statements are based on reasonable assumptions, such statements are not guarantees of future performance and actual results or developments may differ materially from those in the forward-looking statements. Except as required by law, the Company undertakes no obligation to update these forward-looking statements in the event that management's beliefs, estimates or opinions, or other factors, should change. For more information on Global Energy and the risks and challenges of their businesses, investors should review the filings that are available at www.sedar.com.
Neither TSX Venture Exchange nor its Regulation Services Provider (as that term is defined in the policies of the TSX Venture Exchange) accepts responsibility for the adequacy or accuracy of this release.
We seek safe harbour.