Vancouver, BC / TheNewswire / January 19, 2018 / Global Energy Metals Corp. TSXV:GEMC | FSE:5GE1 ("Global Energy Metals", the "Company" and/or "GEMC") is pleased to announce the release of Part 2 - The Company in the "Rise of Tesla" series. GEMC has teamed up with Visual Capitalist to present an uniquely informative three-part series detailing the rise of Tesla Motors and the new energy space.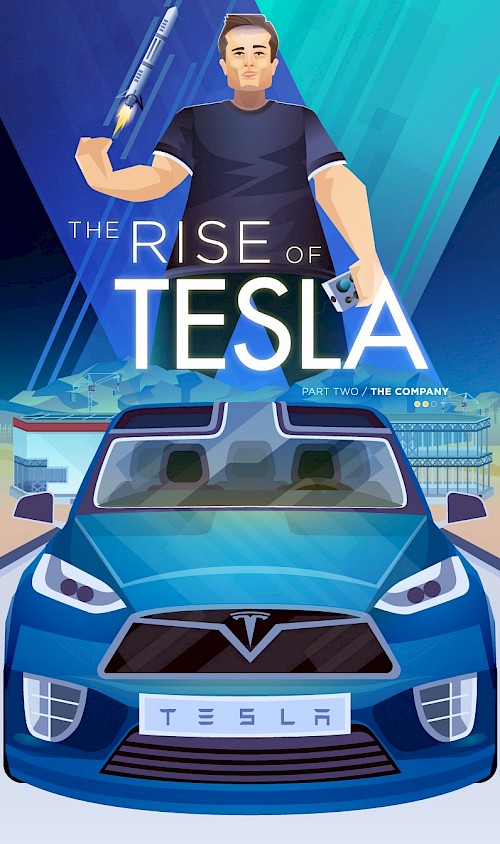 Part 2 shows major events from 2010 until today, and it tracks the company's rapid growth along the way.
As explained in the infographic, In June 2012, the first Model S hit the road – and the rest is history. The model won multiple awards, including being recognized as the "safest car ever tested" by the NHTSA and the "Best car ever tested" by Consumer Reports. Over 200,000 cars were eventually sold.
But despite the success of the new model, Tesla still faced a giant problem. Lithium-ion batteries were still too expensive for a mass market car to be feasible, and the company needed to "bet the farm" on an idea to bring EVs to the mainstream. Tesla believed that through economies of scale, reduction of waste, a closer supply chain, vertical integration, and process optimization, that the cost of batteries could be sufficiently reduced to make a mass market EV possible.
This requirement for safe and secure cobalt supply aligns closely with GEMC's mandate of becoming a future supplier of the critical battery material through our advancement of existing and additional high quality cobalt projects.
Cobalt is an indispensable component in new energy-related technologies, and is critical to the chemistries used in lithium-ion batteries that are powering the increasingly prominent global fleet of EVs. In fact, cobalt represents roughly 40% of the total material cost for each lithium-ion battery and gives each cell the energy density required for high performance use in electric vehicles and portable devices such as smart phones, tablets and laptops. Cobalt is currently in a worldwide supply deficit due to increasing demand and constrained supply, causing its price to more than double in the last 12-months and making cobalt, 2017's top performing base metal.
In effort to provide future supply of this much needed critical element and as part of GEMC's strategic focus on cobalt it is aggressively advancing the Mt. Isa, Australia based Millennium Cobalt project. This project represents a transformational growth opportunity for the Company and its shareholders as the first of several acquisition opportunities the Company is pursuing as it continues to evaluate additional high-quality cobalt targets with capacity for scale and economic grades.
Click on the link to view Part 2 of the "Rise of Tesla" series.
The Company will be showcasing its pure-play cobalt strategy at the upcoming Vancouver Resource Investment Conference 2018 (VRIC2018) being held January 21-22, 2018 in Vancouver, BC.
Representatives of GEMC will be at Booth 840 highlighting the key milestones achieved in 2017 and outlining goals and catalysts for this new year. In addition, on Monday January 22nd at 2pm in Workshop 2, Global Energy Metals' President & CEO, Mitchell Smith, will be joining speakers from other companies involved in the cobalt mining space and presenting in panel format on the "Outlook for Cobalt", its criticality to the electrification of vehicles and need for supply security.
Visual Capitalist
Visual Capitalist uses powerful visual content to help investors and business professionals understand the world. Focusing on topics such as markets, technology, energy and the global economy, Visual Capitalist is currently one of the fastest growing online publishers in North America with an audience of approximately 1.3M unique monthly visitors and a 70% active investor rate.
Global Energy Metals Corporation (TSXV:GEMC | FSE:5GE1)
Global Energy Metals is focused on offering security of supply of cobalt, a critical material to the growing rechargeable battery market, by building a diversified global portfolio of cobalt assets including project stakes, projects and other supply sources. GEMC anticipates growing its business by acquiring project stakes in battery metals related projects with key strategic partners. Global Energy Metals currently owns and is advancing the Werner Lake Cobalt Mine in Ontario, Canada and has entered into an agreement to earn-in to the Millennium Cobalt Project in Mt. Isa, Australia.
For Further Information:
Global Energy Metals Corporation
#1501-128 West Pender Street
Vancouver, BC, V6B 1R8
Email: info@globalenergymetals.com
t. + 1 (604) 688-4219 extensions 236/237
Cautionary Statement on Forward-Looking Information:
Certain information in this release may constitute forward-looking statements under applicable securities laws and necessarily involve risks associated with regulatory approvals and timelines. Although Global Energy Metals believes the expectations expressed in such forward-looking statements are based on reasonable assumptions, such statements are not guarantees of future performance and actual results or developments may differ materially from those in the forward-looking statements. Except as required by law, the Company undertakes no obligation to update these forward-looking statements in the event that management's beliefs, estimates or opinions, or other factors, should change. For more information on Global Energy and the risks and challenges of their businesses, investors should review the filings that are available at www.sedar.com.
Neither TSX Venture Exchange nor its Regulation Services Provider (as that term is defined in the policies of the TSX Venture Exchange) accepts responsibility for the adequacy or accuracy of this release.
We seek safe harbour.