Vancouver, BC / TheNewswire / March 14, 2018 / Global Energy Metals Corporation TSXV:GEMC | OTCQB:GBLEF | FSE:5GE1 ("Global Energy Metals", the "Company" and/or "GEMC") is pleased to announce that it has entered into a letter of intent (the "LOI") with Hammer Metals Limited ("Hammer") setting the terms for the strategic acquisition of the Mount Dorothy Cobalt Project and the Cobalt Ridge Project, collectively the "Mt. Isa Projects", a district-scale exploration opportunity located in Queensland Australia's Mt. Isa mining jurisdiction.
Highlights:
Positions Global Energy Metals as a leading cobalt explorer and developer in the famed Mt. Isa mining district.
Expands cobalt footprint delivering a transformational nearly twenty-fold increase in the Company's Australian land position from 135 hectares at Millennium to 2560 hectares with the addition of the Mt. Isa Projects creating a district-scale cobalt exploration and development opportunity.
Significant upside exploration potential with cobalt-copper mineralization previously identified but not exploited with cobalt being the commodity of emphasis.
Strategic exploration and development alliance strengthens partnership with Hammer Metals and utilizes their regional and technical expertise to effectively and efficiently develop a systematic exploration plan that will determine the extent of the potential cobalt mineralization.
Upon completion of the transaction the Company intends to immediately commence field and geophysical exploration work to further delineate drilling targets and define a resource within the prospective new cobalt camp.
Mitchell Smith, President & CEO commented on the building of an Australian cobalt district, "In addition to advancing the Millennium Cobalt Project, the acquisition of these district-scale cobalt properties to our cobalt portfolio represents an opportunistic and strategic investment consistent with the Company's cobalt focused supply mandate. Our alliance with Hammer provides greater depth to our exploration efforts in the region and allows for the defining of a new district-scale cobalt camp. The need to source non-conflict future supply of cobalt as feed to the growing demand being fuelled by the surge in production of electric vehicles and battery based consumer electronics has become very apparent. This building of a cobalt camp in Australia is a step closer to supply diversification that will further unlock and enhance value for our shareholders and strategic downstream partners."
Alex Hewlett, Managing Director of Hammer Metals also commented, "We are very pleased to be strengthening our partnership with GEMC and combining efforts to build a new cobalt camp in the Mt. Isa mining district. This strategic alliance offers shareholders of both companies extensive possibilities for growth and aligns well with Hammer's strategy by leveraging our infrastructure and proven operational expertise that will be key in furthering the exploration and development potential in this important cobalt rich region."
Strategic Exploration Alliance Terms:
The terms of the proposed LOI (the "Transaction) provide that, subject to the satisfaction of certain conditions, including, but not limited to, completion of due diligence, negotiation of definitive documentation in respect of the transaction, and the receipt of any required regulatory approvals, including the approval of the TSX Venture Exchange, GEMC would have the right to acquire 100% of certain rights and interests known as the the Cobalt Ridge and Mt. Dorothy projects (the "Mt. Isa Projects") located in Queensland, Australia.
Upon completing its due diligence and upon meeting the aforementioned conditions, should GEMC elect to enter into a Definitive Agreement with Hammer, GEMC would have the exclusive right to acquire a 100% interest in the Mt. Isa Projects by:
Issuing to Hammer a cash payment of $80,000 on execution of the Definitive Agreement;
Issuing to Hammer the equivalent of $300,000 in common shares in the capital of GEMC at a deemed issue price determined by the greater of $0.25 or the 5 day average price per share from the final acceptance by the TSX-V of the transaction (the "Closing Date");
Within the first 24 months from the Closing Date, agree to incur a minimum cumulative exploration expenditure on the properties in the amount of $1,000,000;

Should GEMC fail to make the required exploration expenditures, GEMC will will issue to Hammer a cash payment of $100,000 and the equivalent of $250,000 in common shares in the capital of GEMC;

The parties will also agree to a 1.5% Net Smelter Royalty ("NSR") in favour of Hammer; and
Upon completing a NI 43-101 compliant resource report on either of the two projects, GEMC will issue to Hammer the equivalent of $250,000 in common shares in the capital of GEMC.
All GEMC shares issued pursuant to the transaction will be subject to a statutory hold period of four months and one day following the date of issuance thereof and the deemed issue price determined by the 5 day average price per share from the date of issuance. In addition, the ordinary shares of GEMC to be issued will be subject to a contractual lock-up period of twelve months following their issue to Hammer, during which these shares may not be transferred.
Developing the Mt. Isa Cobalt Portfolio
These projects, in addition to the Millennium Cobalt Project ("Millennium") comprise GEMC's Mt. Isa cobalt project portfolio and along with its Werner Lake Cobalt Project ("Werner Lake") in northwestern Ontario Canada will be a foundation to further corporate growth as the Company advances the assets towards economically mineable deposits. As previously reported, GEMC has also teamed with partner Marquee Resources, an Australian company that is sole-funding a CAD $2.5 million work campaign to advance the past producing Werner Lake mine.
Further exploration and development of the new Mt. Isa projects along with the existing advancement of Millennium is a priority for GEMC. With the recent successful drilling at Millennium Global Energy sees great value in strengthening its strategic exploration alliance with Hammer. Hammer brings a track record of efficiently moving assets from exploration through permitting to development and was recipient of the Queensland Miner of the Year (2015) by the ASX. They will utilize their regional and technical expertise to effectively and efficiently develop a systematic exploration plan that will determine the extent of the potential cobalt mineralization.
Under the terms of the agreement, GEMC will provide a million dollars funding field and geophysical exploration work in an effort to further delineate drill targets that will be used to define a resource within the prospective new cobalt camp. Historic work on the Mt. Isa Cobalt Projects has shown that past results have been very promising, including favourable drilling results that highlighted cobalt mineralization.
Given their expertise in the region, Hammer will manage the programs and will be granted a services agreement for a period of time no less than 12 months providing for local engineering, geological services, permitting and environmental services for the projects. According to the LOI, exploration programs and budget plans to be applied on the Mt. Isa Cobalt Projects will be under the guidance of GEMC.
The Mt. Isa Projects:
The Mt. Isa Projects present as an excellent opportunity to acquire high-grade, underexplored assets in close proximity to a processing solution as well as stand-alone potential.
Figure 1. Location Map of the Mt. Isa Projects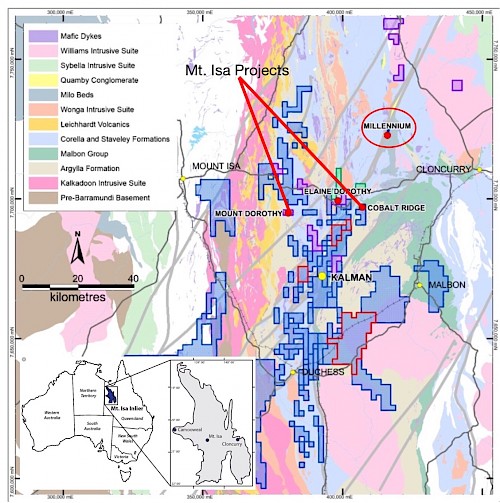 Exploration to date has returned outstanding, high-grade intercepts and there is excellent potential to significantly improve the understanding of the projects with with multiple high grade targets awaiting further exploration and testwork. Significant cobalt intercepts include:
Mount Dorothy exploration drilling:

7m @ 0.14% Co, 2.55% Cu
2m @ 0.12% Co, 0.13% Cu

Cobalt Ridge exploration roc chip sampling:

0.31% Co, 3.63% Cu, 1.25g/t Au
The deposits and prospects are similar in size and style to other deposits in the region that have been successfully mined by small-scale open pit techniques which implies that the project mineralisation may be economically extracted.
The Mt Isa Inlier is a highly mineralised, established, world class mining jurisdiction with significant regional infrastructure several world-class copper-gold-cobalt and lead-zinc-silver mines and deposits, including CuDeco Limited's operating Rocklands copper-gold-cobalt project.
Qualified Person
Mr. Paul Sarjeant, P. Geo., the Company's VP Projects and Director, is the qualified person for this release as defined by National Instrument 43-101 - Standards of Disclosure for Mineral Projects and has reviewed and verified the technical information contained herein.
Hammer Metals Limited (ASX:HMX)
Hammer Metals holds a strategic tenement position covering approximately 3,100km2 within the Mount Isa mining district, with 100% interests in the Kalman (Cu-Au-Mo-Re) deposit, the Overlander North and Overlander South (Cu-Co) deposits, the Millennium (Cu-Co- Au) deposit as well as the recently acquired Elaine-Dorothy (Cu-Au) deposit. Hammer is an active mineral explorer, focused on discovering large copper-gold deposits of the Ernest Henry style and has a range of prospective targets at various stages of testing.
Global Energy Metals Corporation
(TSXV:GEMC | OTCQB:GBLEF | FSE:5GE1)
Global Energy Metals is focused on offering security of supply of cobalt, a critical material to the growing rechargeable battery market, by building a diversified global portfolio of cobalt assets including project stakes, projects and other supply sources. GEMC anticipates growing its business by acquiring project stakes in battery metals related projects with key strategic partners. Global Energy Metals currently owns and is advancing the Werner Lake Cobalt Mine in Ontario, Canada and has entered into an agreement to earn-in to the Millennium Cobalt Project in Mt. Isa, Australia.
For Further Information:
Global Energy Metals Corporation
#1501-128 West Pender Street
Vancouver, BC, V6B 1R8
Email: info@globalenergymetals.com
t. + 1 (604) 688-4219 extensions 236/237
Cautionary Statement on Forward-Looking Information:
Certain information in this release may constitute forward-looking statements under applicable securities laws and necessarily involve risks associated with regulatory approvals and timelines. Although Global Energy Metals believes the expectations expressed in such forward-looking statements are based on reasonable assumptions, such statements are not guarantees of future performance and actual results or developments may differ materially from those in the forward-looking statements. Except as required by law, the Company undertakes no obligation to update these forward-looking statements in the event that management's beliefs, estimates or opinions, or other factors, should change. For more information on Global Energy and the risks and challenges of their businesses, investors should review the filings that are available at www.sedar.com.
Neither TSX Venture Exchange nor its Regulation Services Provider (as that term is defined in the policies of the TSX Venture Exchange) accepts responsibility for the adequacy or accuracy of this release.
We seek safe harbour.