Vancouver, BC / TheNewswire / November 20, 2017 / Global Energy Metals Corp. TSXV:GEMC | FSE:5GE1 ("Global Energy Metals", the "Company" and/or "GEMC") is excited to partner with Visual Capitalist to present an uniquely informative three-part series detailing the rise of Tesla (NASDAQ:TSLA) and the new energy space.
For hundreds of years fossil fuels have helped pave the way for global growth and today's technology. However, fossil fuels have also led to some well documented side effects and climate change has emerged as a major threat to humans and the planet.
As explained in the infographic, every day the equivalent of 217 million barrels of oil is produced globally. The result, around 88 million tonnes of CO2 emissions. While greenhouse gases (GHG) are released by humans in many different ways, the transportation and energy industries are major culprits adding up to 40% of global GHG emissions alone. Solving the problem is what makes the prospect of building zero-emission electric vehicles (EVs) alluring.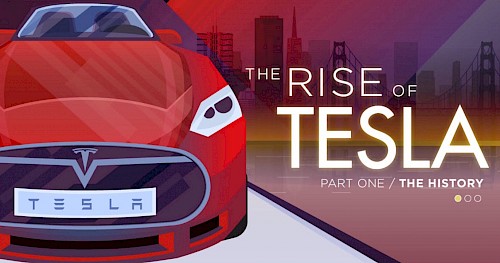 Cobalt is an indispensable component in new energy-related technologies, and is critical to the chemistries used in lithium-ion batteries that are powering the increasingly prominent global fleet of EVs. In fact, cobalt represents roughly 40% of the total material cost for each lithium-ion battery and gives each cell the energy density required for high performance use in electric vehicles and portable devices such as smart phones, tablets and laptops. Cobalt is currently in a worldwide supply deficit due to increasing demand and constrained supply, causing its price to more than double in the last 12-months and making cobalt, 2017's top performing base metal.
In effort to provide future supply of this much needed critical element and as part of GEMC's strategic focus on cobalt, the Company recently announced the addition of the Mt. Isa, Australia based Millennium Cobalt project, complementing GEMC's existing cobalt footprint in Canada and representing a transformational growth opportunity for the company and its shareholders as the first of several acquisition opportunities the company is pursuing.
Click on the link to view Part 1 of the "Rise of Tesla" series.
Visual Capitalist
Visual Capitalist uses powerful visual content to help investors and business professionals understand the world. Focusing on topics such as markets, technology, energy and the global economy, Visual Capitalist is currently one of the fastest growing online publishers in North America with an audience of approximately 1.3M unique monthly visitors and a 70% active investor rate.
Global Energy Metals Corporation (TSXV:GEMC | FSE:5GE1)
Global Energy Metals is focused on offering security of supply of cobalt, a critical material to the growing rechargeable battery market, by building a diversified global portfolio of cobalt assets including project stakes, projects and other supply sources. GEMC anticipates growing its business by acquiring project stakes in battery metals related projects with key strategic partners. Global Energy Metals currently owns and is advancing the Werner Lake Cobalt Mine in Ontario, Canada and has entered into an agreement to earn-in to the Millennium Cobalt Project in Mt. Isa, Australia.
For Further Information:
Global Energy Metals Corporation
#1501-128 West Pender Street
Vancouver, BC, V6B 1R8
Email: info@globalenergymetals.com
t. + 1 (604) 688-4219 extensions 236/237
Cautionary Statement on Forward-Looking Information:
Certain information in this release may constitute forward-looking statements under applicable securities laws and necessarily involve risks associated with regulatory approvals and timelines. Although Global Energy Metals believes the expectations expressed in such forward-looking statements are based on reasonable assumptions, such statements are not guarantees of future performance and actual results or developments may differ materially from those in the forward-looking statements. Except as required by law, the Company undertakes no obligation to update these forward-looking statements in the event that management's beliefs, estimates or opinions, or other factors, should change. For more information on Global Energy and the risks and challenges of their businesses, investors should review the filings that are available at www.sedar.com.
Neither TSX Venture Exchange nor its Regulation Services Provider (as that term is defined in the policies of the TSX Venture Exchange) accepts responsibility for the adequacy or accuracy of this release.
We seek safe-harbour