Vancouver, BC / TheNewswire / April 20, 2023 / Global Energy Metals Corporation TSXV:GEMC | OTCQB:GBLEF | FSE:5GE1 ("Global Energy Metals", the "Company" and/or "GEMC"), a multi-jurisdictional, multi-commodity critical mineral exploration and development company focused on growth-oriented battery metal projects supporting the global transition to clean energy, is pleased to announce that its strategic partner, Kingsrose Mining Limited ("Kingsrose"), has provided an update on exploration activities at the brownfield Råna Nickel-Copper-Cobalt (Ni-Cu-Co) project (the "Project") in northern Norway. Since Kingsrose announced acquiring operational control of 211 km2 of exploration licences at Rana between January and March, Kingsrose has built a team of local geologists and support crew, conducted a rigorous contractor selection process for provision of geophysical and drilling services, and secured the relevant permits and dispensations required to conduct geophysical surveys.
Geophysical surveys have now commenced with a ground based electromagnetic (EM) survey underway and Magnetotelluric (MT) surveys planned for May 2023 (Figure 1). Combined with geological mapping and geochemical sampling, this work will focus on the generation of drill targets, with drilling expected to commence in July.
---
Highlights
The Råna project has proven potential for discovery of massive sulphide Ni-Cu-Co mineralisation and is underexplored using modern deposit models and exploration methods.
Multidisciplinary geophysical surveys will be completed between April and July to allow modelling of the intrusion geology in 3D and identify conductive bodies that may represent nickel-copper-cobalt massive sulphide mineralisation to target in upcoming drilling.
Contracts have been awarded for the completion of airborne MT (Expert Geophysics), ground MT (Quantec Geoscience), ground EM and borehole EM (Geovisor) geophysical surveys, designed to:

assist with geological modelling of the entire intrusion to depths of one to >three kilometres;
identify extensions of known mineralisation at Bruvann and Ränbogen; and
explore for conductive bodies elsewhere within the intrusion and in offset bodies at or near to the base of the intrusion (up to 1000 metres deep) to generate new exploration targets.

Detailed geological mapping and geochemical sampling will commence in late April as soon as snow melts to allow observation of outcrop. This work will complement the geophysical surveys and aid data interpretation for drill targeting purposes.
A 5000 metre core drilling contract has been awarded to Norse Drilling, Norway, to commence in July, pending final approval of the drill permit application which is expected in early May. Drilling will test targets generated from the above geophysical and geological programs.
The previously announced transaction implementation agreement allows for Kingsrose to earn up to 75% over 8 years, through staged expenditure up to a total of A$15m.
---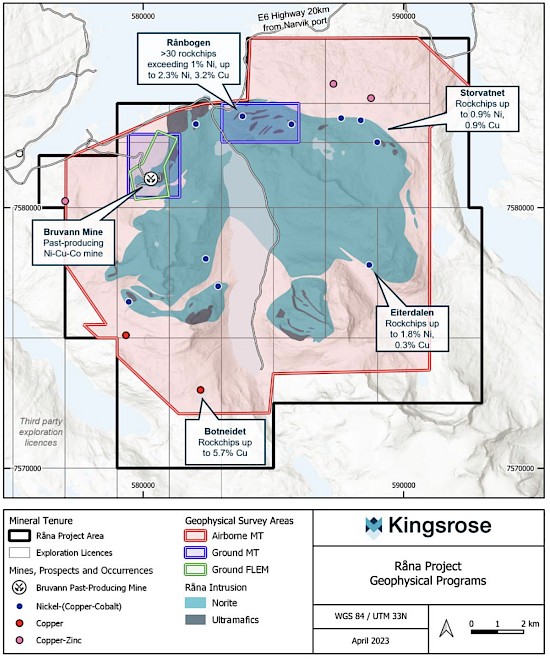 Figure 1: Råna project geology, prospects, and geophysical survey areas.
---
Mitchell Smith, CEO and Director of Global Energy Metals commented:
"Global Energy's collaboration with Kingsrose, a company with demonstrated experience and a commitment to project exploration and development, will substantially enhance the opportunity to realize the full potential of the Råna project and the overall region. We are firm believers in the tremendous potential for Råna and the opportunity to responsibly develop metals, such as nickel, that are key to supporting modern society and its transition to a low-carbon future. We see our non-share dilutive strategic partnership with Kingsrose on Råna as a significant catalyst to our partner funded exploration and development activities and overall growth of the Company."
---
Fabian Baker, Kingsrose Managing Director, commented:
"The scale of the Rana intrusion and widespread surficial mineralisation, coupled with a lack of exploration via modern geophysics to date, makes the project a very exciting target for the discovery of high-grade nickel-copper-cobalt mineralisation. We have rapidly developed an exploration strategy and a high-quality team to operate the project and look forward to providing regular news flow as the work proceeds through the summer."
---
About Kingsrose Mining Limited
Kingsrose Mining Limited is a leading ESG-conscious and technically proficient mineral exploration company listed on the ASX. In 2021 the Company commenced a discovery-focused strategy, targeting the acquisition and exploration of Tier-1 critical mineral deposits, that resulted in the acquisition of the Penikat and Porsanger PGE-Nickel-Copper projects in Finland and Norway respectively.
---
Qualified Person
Mr. Paul Sarjeant, P. Geo., is the qualified person for this release as defined by National Instrument 43-101 - Standards of Disclosure for Mineral Projects.
---
Global Energy Metals Corporation
(TSXV:GEMC | OTCQB:GBLEF | FSE:5GE1)
Global Energy Metals Corp. offers investment exposure to the growing rechargeable battery and electric vehicle market by building a diversified global portfolio of exploration and growth-stage battery mineral assets.
Global Energy Metals recognizes that the proliferation and growth of the electrified economy in the coming decades is underpinned by the availability of battery metals, including cobalt, nickel, copper, lithium and other raw materials. To be part of the solution and respond to this electrification movement, Global Energy Metals has taken a 'consolidate, partner and invest' approach and in doing so have assembled and are advancing a portfolio of strategically significant investments in battery metal resources.
As demonstrated with the Company's current copper, nickel and cobalt projects in Canada, Australia, Norway and the United States, GEMC is investing-in, exploring and developing prospective, scaleable assets in established mining and processing jurisdictions in close proximity to end-use markets. Global Energy Metals is targeting projects with low logistics and processing risks, so that they can be fast tracked to enter the supply chain in this cycle. The Company is also collaborating with industry peers to strengthen its exposure to these critical commodities and the associated technologies required for a cleaner future.
Securing exposure to these critical minerals powering the eMobility revolution is a generational investment opportunity. Global Energy Metals believes Now is the Time to be part of this electrification movement.
For Further Information:
Global Energy Metals Corporation
#1501-128 West Pender Street
Vancouver, BC, V6B 1R8
Email: info@globalenergymetals.com
t. + 1 (604) 688-4219
Twitter: @EnergyMetals | @USBatteryMetals | @ElementMinerals
---
Cautionary Statement on Forward-Looking Information:
Certain information in this release may constitute forward-looking statements under applicable securities laws and necessarily involve risks associated with regulatory approvals and timelines. Although Global Energy Metals believes the expectations expressed in such forward-looking statements are based on reasonable assumptions, such statements are not guarantees of future performance and actual results or developments may differ materially from those in the forward-looking statements. Except as required by law, the Company undertakes no obligation to update these forward-looking statements in the event that management's beliefs, estimates or opinions, or other factors, should change.
GEMC's operations could be significantly adversely affected by the effects of a widespread global outbreak of a contagious disease, including the recent outbreak of illness caused by COVID-19. It is not possible to accurately predict the impact COVID-19 will have on operations and the ability of others to meet their obligations, including uncertainties relating to the ultimate geographic spread of the virus, the severity of the disease, the duration of the outbreak, and the length of travel and quarantine restrictions imposed by governments of affected countries. In addition, a significant outbreak of contagious diseases in the human population could result in a widespread health crisis that could adversely affect the economies and financial markets of many countries, resulting in an economic downturn that could further affect operations and the ability to finance its operations.
For more information on Global Energy and the risks and challenges of their businesses, investors should review the filings that are available at www.sedar.com.
Neither TSX Venture Exchange nor its Regulation Services Provider (as that term is defined in the policies of the TSX Venture Exchange) accepts responsibility for the adequacy or accuracy of this release.
We seek safe harbour.