Vancouver, BC / TheNewswire / April 27, 2023 / Global Energy Metals Corporation TSXV:GEMC | OTCQB:GBLEF | FSE:5GE1 ("Global Energy Metals", the "Company" and/or "GEMC"), a multi-jurisdictional, multi-commodity critical mineral exploration and development company focused on growth-oriented battery metal projects supporting the global transition to clean energy, is pleased to announce it has entered into a definitive binding agreement to consolidate 100% ownership of the Lovelock Mine and Treasure Box projects in Nevada, USA (the "Projects") via a mineral claim purchase agreement with Nevada Sunrise Metals Corporation ("Nevada Sunrise") (the "Transaction").
---
HIGHLIGHTS
• GEMC to consolidate 100% ownership of the Lovelock and Treasure Box projects
• The Transaction will increase the current interest in the Projects from the current 85% to 100%
• GEMC holding 100% ownership of the Project will simplify decision-making and provides the optimal structure to oversee the rapid exploration and development of key U.S. based critical minerals projects.
• Consolidation of 100% of the Projects' ownership will de-risk the funding pathway and enhance GEMC's ability to source capital for the development of the Projects from a wider range of providers when compared with the existing joint venture ownership structure
• Consideration will be paid in GEMC shares, subject to TSX Venture Exchange approval, vesting over 12 months thereby allowing the shareholders of the vendor to retain exposure to the Projects
---
Mitchell Smith, GEMC President and CEO commented:
"We are extremely pleased to have reached an agreement with Nevada Sunrise to consolidate 100% ownership of the Lovelock Mine and Treasure Box projects. The exceptional exploration findings to date demonstrate the exciting potential for copper, nickel and cobalt mineralization at a district scale in Nevada, a top tier mining jurisdiction.
This transaction is a highly rational step for GEMC. By assuming full control of the Projects, GEMC will create a strong platform from which to develop and fund these battery mineral projects. We look forward to continuing to deliver long-term value for our shareholders by unlocking the potential of these critically important technology enabling metals."
---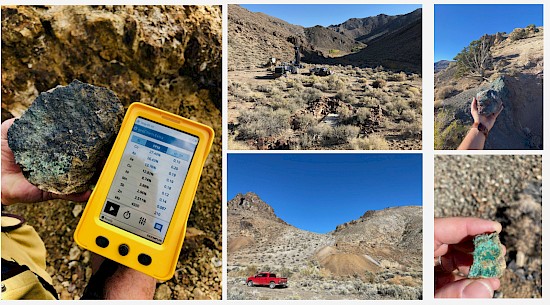 ---
Consolidating 100% ownership under GEMC provides the optimal structure to oversee the rapid development of the Projects by streamlining decision making and execution. The Transaction will simplify and de-risk the funding pathway for the Projects and will greatly enhance the Company's ability to source capital from a wider pool of investors. Management believes that this in turn may potentially deliver enhanced returns to shareholders as the Projects advance.
Please refer to the GEMC news release dated January 31, 2023 providing a detailed summary of the results from multiple exploration programs carried out in 2022 at the Projects located in the Stillwater Range in Nevada, USA, along with an overview of the Company's near term project advancement initiatives following the exploration results.
The Company currently owns a 85% interest in the Projects with Nevada Sunrise holding 15%. Following completion of the Transaction, Global Energy Metals will have an undivided 100% interest in the Projects subject to the 2% net smelter royalty in favour of Primus Resources L.C. (the "Royalty").
Global shall have the right, exercisable at any time, to purchase up to 50% of the Royalty granted to Primus Resources L.C. ("Primus") by payment to Primus of US$1,500,000 subject to a protection hedge against inflation of the U.S. Dollar, using an agreed upon price of $3.25 per pound copper. Upon payment of US$1,500,000 or the cash value of 462,000 (four hundred, sixty two thousand) pounds copper, whichever value is greater at the time of the purchase of half of the Royalty, the Royalty shall be reduced to 1% of Net Smelter Returns, effective as of the date of such payment and provided that Products produced before the date of such payment shall be subject to the 2% Royalty.
As consideration for the Transaction, and subject to receiving approval from the TSX Venture Exchange, the Company will issue 2,500,000 shares in GEMC to Nevada Sunrise. The shares will vest in four equal instalments of 625,000 shares on the fourth, sixth, ninth and twelfth months from issuance.
---
About Lovelock
The Property currently consists of 81 unpatented lode claims in the Cottonwood Canyon area of the Stillwater Range totaling approximately 1,586 acres (642 hectares). It was discovered by George Lovelock and Charles Bell about 1880. According to U.S. Government annual reports, the Lovelock Mine saw limited production of nickel, copper and cobalt beginning in 1883. The primary cobalt mineral was identified as "cobaltite". The general average of the 200 tons shipped in 1886 averaged 14 percent cobalt and 12 percent nickel. The mine operated from 1883 to 1890 to the 100 foot level, reporting 500 tons of cobalt and nickel mineralized material shipped to England for processing. After intermittent production, an English company attempted smelting on site in 1898 but little or no production was made (Source: "Mineral Resources of the United States for 1885", 1886). No further production from the Lovelock Mine is known for well over a century providing GEMC an excellent opportunity to unlock the potential value of the deposit through exploration work. In a recent drill program at Lovelock by GEMC, elevated values of cobalt, nickel and copper were intercepted in three of the holes which targeted possible mineralization beneath the historical mine workings.
---
About Treasure Box
Treasure Box hosts mine workings from limited copper production, which occurred until early into the 20th century. A historical diamond drill hole (circa 1910) drilled at the Treasure Box by the Boyer-Nevada Copper Company reportedly intersected 1.52% copper over 85 feet (25.9 metres) with mineralization beginning at surface. A reverse circulation hole drilled on the Treasure Box by Utah International in 1976 returned 1.55% copper over 40 feet (12.2 metres) from a depth of 85 to 125 feet (25.9 to 38.1 metres), and the hole was stopped in chalcopyrite mineralization. The core Treasure Box claims were held continuously for over 20 years by a private company but were relinquished in September 2017, leading to their acquisition by Nevada Sunrise. GEMC received approval from the US Bureau of Land Management (the "BLM") for a proposed exploration and drill plan at the Treasure Box project that includes up to thirteen (13) vertical drill holes from thirteen (13) different locations. Planned drill hole lengths range from 350 feet (107 metres) to 500 feet (152 metres). Total drilling is anticipated to be 5,850 feet (1,784 meters), with a minimum drilling length of three (3) drill holes totaling 1,350 feet (412 metres). Depending on findings, individual drill hole lengths could be extended by 30 to 50 feet (10 to 15 metres) as determined by the company's on-site representative. The targeted prospects have been identified by Global Energy Metals through a systematic exploration program over the past several months that has included an airborne magnetic survey, reinterpretation of historical Induced Polarization (IP) data, detailed mapping and desktop review of historical data including past drilling.
---
Qualified Person
Mr. Paul Sarjeant, P. Geo., is the qualified person for this release as defined by National Instrument 43-101 - Standards of Disclosure for Mineral Projects. He is a shareholder and Director of the Company.
---
Global Energy Metals Corporation
(TSXV:GEMC | OTCQB:GBLEF | FSE:5GE1)
Global Energy Metals Corp. offers investment exposure to the growing rechargeable battery and electric vehicle market by building a diversified global portfolio of exploration and growth-stage battery mineral assets.
Global Energy Metals recognizes that the proliferation and growth of the electrified economy in the coming decades is underpinned by the availability of battery metals, including cobalt, nickel, copper, lithium and other raw materials. To be part of the solution and respond to this electrification movement, Global Energy Metals has taken a 'consolidate, partner and invest' approach and in doing so have assembled and are advancing a portfolio of strategically significant investments in battery metal resources.
As demonstrated with the Company's current copper, nickel and cobalt projects in Canada, Australia, Norway and the United States, GEMC is investing-in, exploring and developing prospective, scaleable assets in established mining and processing jurisdictions in close proximity to end-use markets. Global Energy Metals is targeting projects with low logistics and processing risks, so that they can be fast tracked to enter the supply chain in this cycle. The Company is also collaborating with industry peers to strengthen its exposure to these critical commodities and the associated technologies required for a cleaner future.
Securing exposure to these critical minerals powering the eMobility revolution is a generational investment opportunity. Global Energy Metals believes Now is the Time to be part of this electrification movement.
For Further Information:
Global Energy Metals Corporation
#1501-128 West Pender Street
Vancouver, BC, V6B 1R8
Email: info@globalenergymetals.com
t. + 1 (604) 688-4219
Twitter: @EnergyMetals | @USBatteryMetals | @ElementMinerals
---
Cautionary Statement on Forward-Looking Information:
Certain information in this release may constitute forward-looking statements under applicable securities laws and necessarily involve risks associated with regulatory approvals and timelines. Although Global Energy Metals believes the expectations expressed in such forward-looking statements are based on reasonable assumptions, such statements are not guarantees of future performance and actual results or developments may differ materially from those in the forward-looking statements. Except as required by law, the Company undertakes no obligation to update these forward-looking statements in the event that management's beliefs, estimates or opinions, or other factors, should change.
GEMC's operations could be significantly adversely affected by the effects of a widespread global outbreak of a contagious disease, including the recent outbreak of illness caused by COVID-19. It is not possible to accurately predict the impact COVID-19 will have on operations and the ability of others to meet their obligations, including uncertainties relating to the ultimate geographic spread of the virus, the severity of the disease, the duration of the outbreak, and the length of travel and quarantine restrictions imposed by governments of affected countries. In addition, a significant outbreak of contagious diseases in the human population could result in a widespread health crisis that could adversely affect the economies and financial markets of many countries, resulting in an economic downturn that could further affect operations and the ability to finance its operations.
For more information on Global Energy and the risks and challenges of their businesses, investors should review the filings that are available at www.sedar.com.
Neither TSX Venture Exchange nor its Regulation Services Provider (as that term is defined in the policies of the TSX Venture Exchange) accepts responsibility for the adequacy or accuracy of this release.
We seek safe harbour.