Vancouver, BC / TheNewswire / October 29, 2018 / Global Energy Metals Corporation TSXV:GEMC | OTCQB:GBLEF | FSE:5GE1 ("Global Energy Metals", the "Company" and/or "GEMC") is pleased to announce that following the successful completion of a phase 1 exploration program that partner Marquee Resources Limted ("Marquee") has confirmed encouraging consistency of data from previous drill campaigns at the Werner Lake Cobalt project ("Werner Lake" and/or the "Project") located in Ontario, Canada.
The multi-phase Werner Lake exploration program is part of a $2.5 million commitment to advance the project and is being solely funded by Marquee for their earn-in of up to 70% interest in the Project. Global Energy Metals currently owns 100% of the Werner Lake Project.
Phase 2 drill campaign has intersected further extensions to cobalt sulphide mineralisation:
0.55 m @ 0.534% Co from 202.75 m and 0.73 m @ 0.159% Co from 210.20 m in WL 18-08.
0.89 m @ 0.365% Co from 253.86 m from 253.86 in WL 18-09.
1.26 m @ 0.299% Co from 279.23 in WL 18-12.
3.90 m @ 0.214% Co from 346.00 m, including 2.00 m @ 0.339% Co in WL 18-13.
Marquee has now completed 18 holes for 4,800 m at the Werner Lake Project with assays for drill holes WL 18-14 through WL 18-16 anticipated shortly.
Five metallurgical drill holes for 452m have also been completed with met-test work underway.
Paul Sarjeant, VP Projects commented:
"These latest results further confirm the presence of extensive cobalt sulphide mineralisation at the Werner Lake deposit. We are particularly encouraged by the results of holes WL 18-12 and WL 18-13 which were some of the deepest holes drilled at the project and indicate that the mineralisation does infact extend to depth and down plunge as suggested by previous work campaigns at the project. We look forward to reporting the next holes of the phase 2 drill program shortly as our partner move towards updating the cobalt resource at Werner Lake."
Table 1: Significant Diamond Drill Results - Werner Lake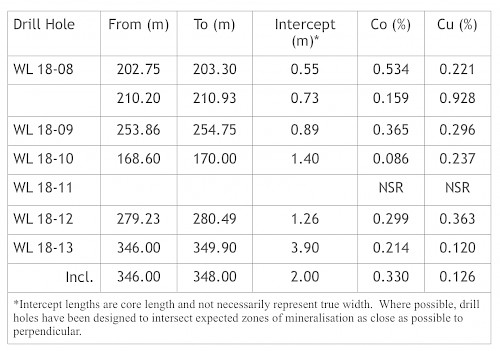 WL 18-08 was drilled on section 359,840 E (Figure 1) and was designed to infill between mineralised intercepts drilled during the 2009-2010 drill program by Puget Ventures and drilling by Camine Resources in 1996-1997. The hole successfully intersected a sequence of the "Mixed Unit" over approximately 11 m core length. The hole returned two significant intercepts; 0.534% Co over 0.55 m (from 202.75 m) and 0.159% Co over 0.73 m, from 210.2 m (Table 1). These intercepts correlate well with historical drill holes WL-10-28 (0.404% Co over 1.69 m; from 233.11 m) and will help to confirm the mineralised zone on this section.
Figure 1: Simplified Cross Section 359,840 E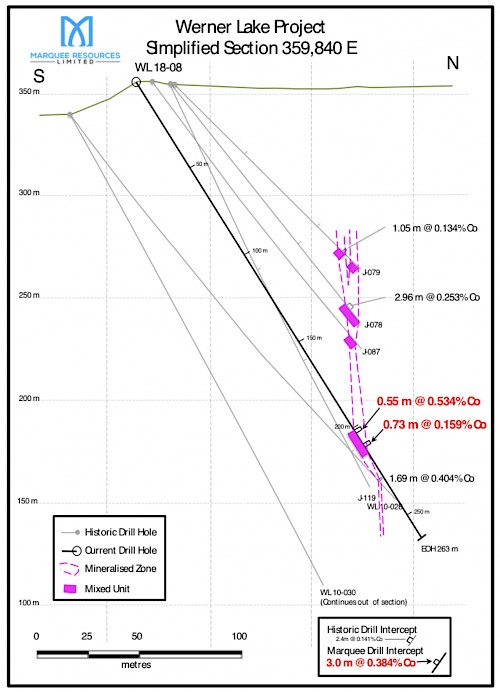 WL 18-09 was drilled on section 359,870 E (Figure 2) and was designed to infill between sections and to extend mineralisation down plunge. A wide zone of the "Mixed Unit" with varying amounts of disseminated sulphides was encountered. The most significant intercept in the hole was 0.365% Co over 0.89 m, from 253.86 m (Table 1). Two other zones of copper mineralisation with anomalous cobalt were also intercepted. The results confirm the presence of the mineralised zone and will successfully fill a gap in the current resource model.
Figure 2: Simplifed Cross Section 359,870 E
WL 18-10 was drilled on section 359,930 E (Figure 3) and to test a potential gap in mineralisation approximately 150 m below surface.
The targeted "Mixed Unit" with disseminated sulphide mineralisation was encountered at 138 m down hole and again at 158 m down hole. Both zones returned narrow intercepts with copper mineralisation (Table 1). The hole successfully hit the prospective targeted unit(s), but cobalt mineralisation was not strong. Results are consistent with historical values in this area.
Figure 3: Simplified Section 359,930 E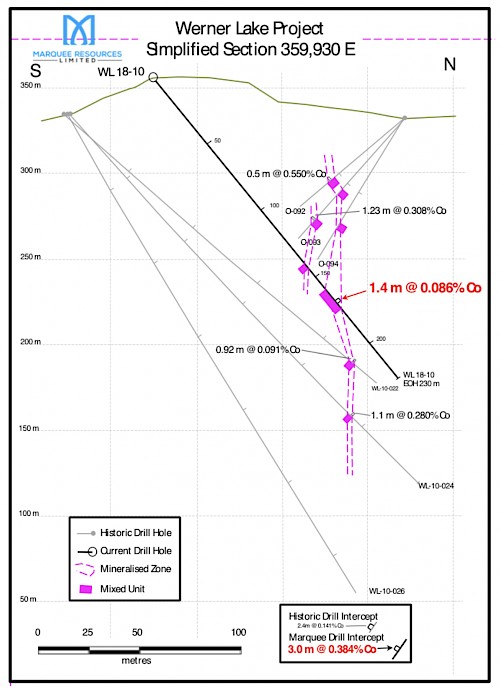 WL 18-11 was drilled on section 359,700 E (Figure 4) and was designed to extend to depth the excellent intercept in WL 18-07 (0.660% Co over 5.5 m: previously reported). A wide zone of the "Mixed Unit" was encountered from 295.6 to 309.75 m down hole with 1% disseminated pyrite and pyrrhotite throughout. Though the drill hole successfully drilled the target horizon where anticipated, there were no significant cobalt values returned in this drill hole.
Figure 4: Simplified Section 359,700 E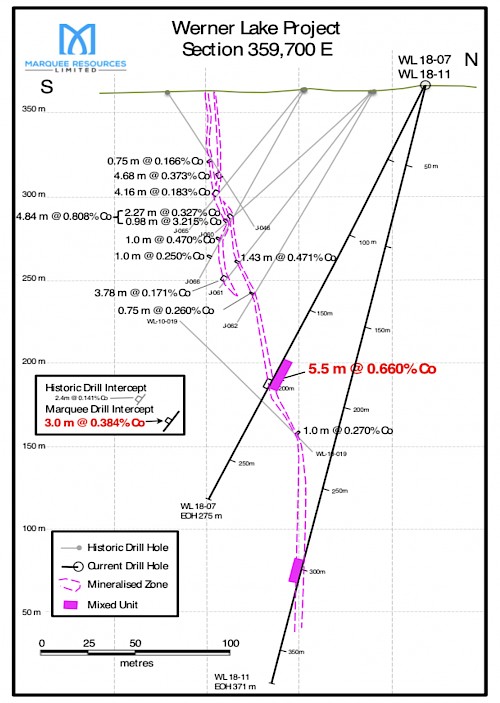 WL 18-12 and WL 18-13 were drilled on section 360,060 E (Figure 5) and were designed to test the down dip and down plunge of mineralisation below the current resource area. These holes are the first attempt to drill to depth (+250 m) at the eastern end of the Minesite Zone and test the down plunge concept that Canmine Resources had postulated during their work in the late 1990's. Both drill holes intersected the targeted "Mixed Unit" approximately where expected suggesting the key geological units extend to depth. WL 18-12 returned 0.299% Co over 1.26 m, from 279.23 m (Table 1) which represents a 50 m extension to know mineralisation below historic hole J-130 (0.453% Co over 1.07 m). WL 18-13 cut the same section line approximately 300 m below surface and returned 0.339% Co over 2.0 m, from 346.0 m within a broader zone of mineralisation (Table 1). The results of these two drill holes give strong indication that the mineralisation does extend to depth and down plunge as suggested by Canmine. Additional drilling continues to test this deep extension and those results will be reported once received.
Figure 5: Simplified Section 360,060 E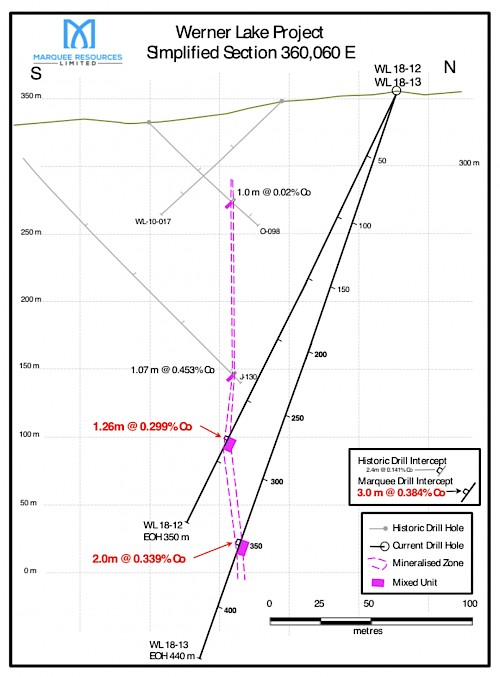 Marquee has now completed 18 holes for 4,800 m at the Werner Lake Project as part of the phase one and two drilling campaigns (Figure 6). Results for hole WL 18-14 through WL 18-16 are pending and will be reported when available.
Figure 6: Drill Location Plan Map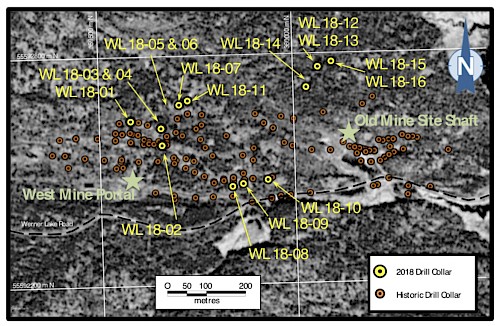 The Phase 1 campaign at Werner Lake was primarily focused on narrow spaced drilling, which has been designed to increase the existing Indicated Mineral Resource of 79,400 Tonnes at 0.43% Co that remains open in all directions. Phase 2 drilling was intended to extend mineralisation beneath the current resource area and test potential down dip and down plunge extensions to the mineralisation at Werner Lake. In addition to this exploration drilling, the Company has just completed five drill holes for metallurgical purposes (452 m). Sampling of these holes has been completed and samples have been sent to AGAT Laboratories for analysis. Once these results have been received, the Company will composite a bulk sample of approximately 150 kilograms for metallurgical work at SGS Laboratories Canada as announced on October 17, 2018.
Table 2: Werner Lake Drill Hole Collars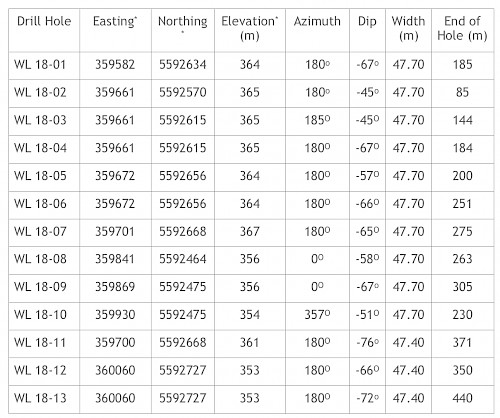 *Horizontal Datum used is UTM 15N/NAD83 CSRS 1997. Vertical Datum used is CGVD28 / HT_0 Geoid. Results prior to surveying.
Qualified Person
Mr. Paul Sarjeant, P. Geo., the Company's VP Projects and Director, is the qualified person for this release as defined by National Instrument 43-101 - Standards of Disclosure for Mineral Projects and has reviewed and verified the technical information contained herein.
Global Energy Metals Corporation
(TSXV:GEMC | OTCQB:GBLEF | FSE:5GE1)
Global Energy Metals is focused on offering security of supply of cobalt, a critical material to the growing rechargeable battery market, by building a diversified global portfolio of cobalt assets including project stakes, projects and other supply sources. GEMC anticipates growing its business by acquiring project stakes in battery metals related projects with key strategic partners. Global Energy Metals currently owns and is advancing the Werner Lake Cobalt Mine in Ontario, Canada and has entered into an agreement to earn-in to the Millennium Cobalt Project in Mt. Isa, Australia.
For Further Information:
Global Energy Metals Corporation
#1501-128 West Pender Street
Vancouver, BC, V6B 1R8
Email: info@globalenergymetals.com
t. + 1 (604) 688-4219 extensions 236/237>
Cautionary Statement on Forward-Looking Information:
Certain information in this release may constitute forward-looking statements under applicable securities laws and necessarily involve risks associated with regulatory approvals and timelines. Although Global Energy Metals believes the expectations expressed in such forward-looking statements are based on reasonable assumptions, such statements are not guarantees of future performance and actual results or developments may differ materially from those in the forward-looking statements. Except as required by law, the Company undertakes no obligation to update these forward-looking statements in the event that management's beliefs, estimates or opinions, or other factors, should change. For more information on Global Energy and the risks and challenges of their businesses, investors should review the filings that are available at www.sedar.com.
Neither TSX Venture Exchange nor its Regulation Services Provider (as that term is defined in the policies of the TSX Venture Exchange) accepts responsibility for the adequacy or accuracy of this release.
We seek safe harbour.