Vancouver, BC / TheNewswire / March 26, 2018 / Global Energy Metals Corporation TSXV:GEMC | OTCQB:GBLEF | FSE:5GE1 ("Global Energy Metals", the "Company" and/or "GEMC") is pleased to announce that the Company, along with its partner Hammer Metals Limited ("Hammer") will be providing attendees of the Mines and Money Asia Conference being held April 3-6, 2018 in Hong Kong, an overview of the battery revolution and how global battery consumption is driving demand for cobalt. GEMC provides investors with pure-play cobalt investment exposure through its portfolio of cobalt project located in Canada and Australia.
President & CEO Mitchell Smith along with Dr. Wei Qian, Managing Director of GEMC's strategic Chinese Relations advising partner New Tigers will be available at the "Got Cobalt?" booth (B7) to meet those interested in better understanding opportunities in investing in the cobalt space and how Global Energy Metals is positioning itself as a market leader in cobalt.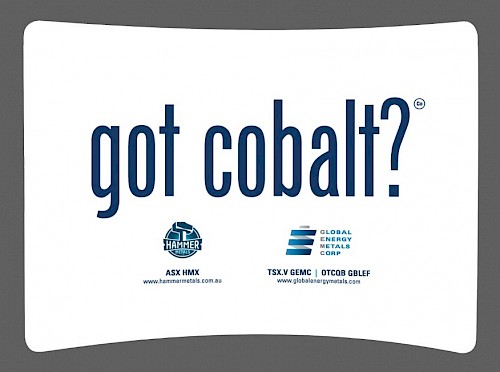 Operating partner at the Millennium Cobalt Project and vendor of recently announced Mt. Isa Cobalt Projects, Hammer will also be exhibiting alongside GEMC showcasing the opportunity the Mt. Isa, Queensland Australia mining jurisdiction presents.
Global Energy Metals recently announced that it was expanding its cobalt footprint in Mt. Isa Australia with the addition of the Mt. Isa Cobalt Projects creating a district-scale cobalt exploration and development opportunity. This transaction positions Global Energy Metals as a leading cobalt explorer and developer in the famed Mt. Isa mining district.
Mr. Smith will be joining fellow cobalt peers on Thursday April 5th on the cobalt panel discussion: With a shortage of pure cobalt plays coupled with a potential DRC induced supply side crunch, what's the best way to play the cobalt investment thesis? moderated by Willem Middelkoop, Founder & CIO, Commodity Discovery Fund and co-author of several books including The Tesla Revolution.
Mr. Alex Hewlett, Managing Director of Hammer Metals will be taking part in a friendly competition against two other resource companies at the Mines & Money: Pitch Battle taking place on Thursday April 5th at 12:20pm that will be emceed by Ellis Martin, Broadcast Journalist & Producer, The Ellis Martin Report and judged by several well respected industry experts.
Should there be an interest to schedule a one-on-one meeting with company representatives please feel free to contact GEMC at info@globalenergymetals.com.
Global Energy Metals Corporation
(TSXV:GEMC | OTCQB:GBLEF | FSE:5GE1)
Global Energy Metals is focused on offering security of supply of cobalt, a critical material to the growing rechargeable battery market, by building a diversified global portfolio of cobalt assets including project stakes, projects and other supply sources. GEMC anticipates growing its business by acquiring project stakes in battery metals related projects with key strategic partners. Global Energy Metals currently owns and is advancing the Werner Lake Cobalt Mine in Ontario, Canada and has entered into an agreement to earn-in to the Millennium Cobalt Project in Mt. Isa, Australia.
For Further Information:
Global Energy Metals Corporation
#1501-128 West Pender Street
Vancouver, BC, V6B 1R8
Email: info@globalenergymetals.com
t. + 1 (604) 688-4219 extensions 236/237
Cautionary Statement on Forward-Looking Information:
Certain information in this release may constitute forward-looking statements under applicable securities laws and necessarily involve risks associated with regulatory approvals and timelines. Although Global Energy Metals believes the expectations expressed in such forward-looking statements are based on reasonable assumptions, such statements are not guarantees of future performance and actual results or developments may differ materially from those in the forward-looking statements. Except as required by law, the Company undertakes no obligation to update these forward-looking statements in the event that management's beliefs, estimates or opinions, or other factors, should change. For more information on Global Energy and the risks and challenges of their businesses, investors should review the filings that are available at www.sedar.com.
Neither TSX Venture Exchange nor its Regulation Services Provider (as that term is defined in the policies of the TSX Venture Exchange) accepts responsibility for the adequacy or accuracy of this release.
We seek safe harbour.